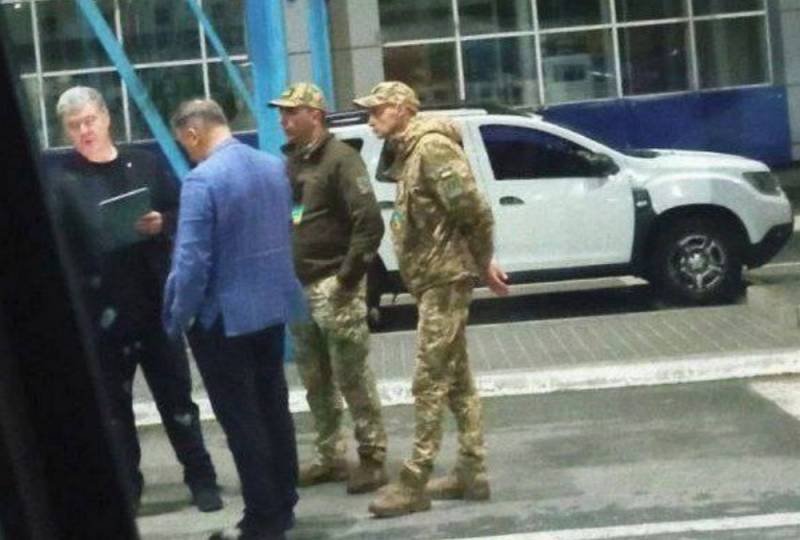 The season of now fashionable photography with a machine gun for the ex-president of Ukraine Petro Poroshenko could have ended with a cozy vacation abroad, but the Ukrainian border guards did not let the people's deputy who tried to escape from the country at the border. The former head of state allegedly had to take part in international forums as a representative of the Ukrainian parliament, for which he tried to leave the country in a private car. He was denied such an opportunity, the entire cortege was simply "wrapped up" after a short altercation with customs officers on the Ukrainian-Polish border.
Poroshenko's faithful ally Irina Gerashchenko of the European Solidarity party explained that her former boss had an official mandate to visit the NATO Parliamentary Assembly, and he was also supposed to speak at the summit of the European People's Party. The deputy noted that all trips and departures were agreed in advance, the travel list is at the head of the Verkhovna Rada of Ukraine. However, all this did not save Poroshenko from shame at the border. All the action took place in front of the public, who took pictures of what was happening with pleasure. In such a situation, even a bribe would be difficult to give.
Policy
they did not let him cross the border without explaining the reasons, although in a private conversation, face to face, the customs officer told Poroshenko about the allegedly fake or outdated exit permit, which was also canceled. Such information is disseminated by Gerashchenko.
Recall that in Ukraine, Poroshenko is in the status of a suspect in treason and promoting terrorism as a defendant in the case of coal supplies from Donbass, according to the law, he faces up to 15 years in prison. Earlier, the ex-president smugly said that a total of 130 criminal cases were initiated against him, but about forty of them were "destroyed" by the politician's lawyers or closed due to lack of composition and evidence.
Remarkably, none of these charges were filed by Ukrainian border guards against a former head of state trying to escape his troubled country. Last year, Poroshenko already fled the country, fearing persecution by the regime of President Volodymyr Zelensky, who mercilessly eliminates competitors. The previous attempt was successful, which is probably why it was not missed this time. And then, like last time, the official visit would be delayed in time until a full vacation.
In any case, Poroshenko, as a public figure, is only inclined to call for the defense of Ukraine, but obviously he is not going to participate in this "noble and honorable" cause.