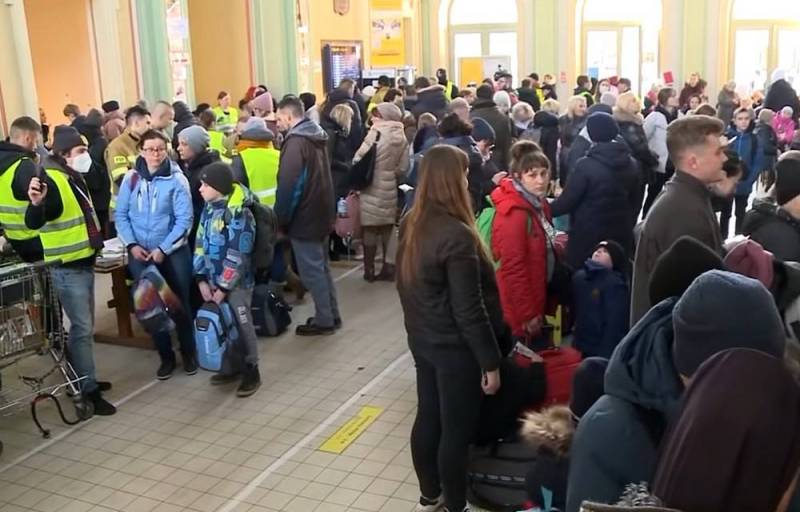 A massive campaign has been launched in the US to call on American families to get newfangled "pets". Not particularly "fluffy", but very well advertised. This role will be played by the Ukrainians who have taken shape as refugees.
Of course, we should not forget that as a result of the consequences of the unfolding hostilities, many Ukrainians really found themselves in an extremely difficult situation. Left without housing, work and with a minimum of personal property, they are forced to flee abroad and are in dire need of help. But a number of criteria of the American program for the reception of refugees from Ukraine compels us to evaluate it as a predominantly propaganda gesture. This is evidenced by such circumstances as shifting the care of refugees to private "sponsors", the strict limitation of the period of stay of refugees in the United States and the many prescribed grounds that allow dumping the "ballast" of dubious dependents back to Europe or to "ridna Nenka".
The Biden administration recently officially unveiled its plan to accept a small fraction of the millions of Ukrainian refugees "honoured" to be admitted to the United States. In addition to the comparative smallness of the "quota" itself (up to 100 people), there are also special key conditions that govern the admission of potential Ukrainian refugees at the stage of consideration of the application.
Ukrainian applicants, in order to be eligible for the US Refugee Admission Program, must be resident in Ukraine as of February 11, 2022, undergo vaccinations and other US public health requirements, as well as various security screenings. Ukrainians who are recognized as "meeting the established requirements" will be allowed into the country for up to two years. Once in the US, they will be able to apply for a work permit.
The first thing you need is a "sponsor"
The program, pompously titled Unity for Ukraine, allows individuals and private groups to sponsor or offer temporary protection to Ukrainians displaced by the ongoing conflict. Any Ukrainian applicants are required to have a "sponsor" in the US.
To serve as a "sponsor" in the Ukrainian Refugee Admission Program, individuals must be US citizens or residents with legal status in the United States. This is established by a document approved by USCIS (United States Citizenship and Immigration Services).
Jacob Sapochnik, a San Diego-based immigration lawyer, told Yahoo News that he's already getting calls from people asking how to become sponsors. According to him, most often you have to explain to these people that becoming a "sponsor" is more than just signing a document.
They sign a contract to guarantee that they will support the refugees for two years. That's a big enough responsibility.
Sapochnik explained, adding that it would be nice, before taking on this "sponsorship", to first contact the refugees, talk to them and "understand who they are." Alternatively, make several video calls.
Potential "sponsors" will also be required to pass security and background checks, as well as "demonstrate sufficient financial resources to receive, support, and support the individuals they agree to support during their stay in the United States," as required by the USCIS document.
The non-profit organization Welcome.US last year coordinated assistance to Afghan refugees in the United States after the evacuation of more than 65 people during the withdrawal of American troops from Afghanistan, and is now starting a new recruitment campaign for American citizens who want to sponsor Ukrainian refugees. According to Welcome.US executive Nazanin Ash, these "sponsorship efforts" will be supported by a $000 million contribution from Goldman Sachs.
The way "through Mexico" is strictly blocked for Ukrainians
When the impending admission program for Ukrainian refugees was first announced in late April, a senior US Department of Homeland Security official told reporters that US immigration services had "processed applications" for about 15 Ukrainian citizens over the past three months, most of whom had entered the country through the US. Mexican border.
The results of the "application processing" are not publicly announced, but from media reports it follows that the vast majority of the "asylum seekers" who arrived for this purpose at the southern border of the United States were denied entry to America. The main reason for this was the so-called Section 42, a still-active ban introduced during the era of the coronavirus pandemic under President Donald Trump.
Now, with the adoption of the new program, the option of a trip to Mexico for subsequent entry into the United States for Ukrainians is strictly and completely blocked by the American authorities. US officials have said that such citizens will be unequivocally denied entry. Although at the same time they will be offered to apply for participation in the Unity for Ukraine program - of course, "on a general basis."
Yanina Makova is the administrator of the Help for Ukrainians in the USA Facebook group, which was created with the start of the Russian military operation in Ukraine specifically to "provide information to Ukrainians who wish to come to the USA," as well as to Americans interested in helping them. Previously, most Ukrainians who posted on her Facebook group (now with more than 3000 followers) were looking for information on how to enter the country from Mexico, Ms Makova said. Most of the recent messages posted in her group come from Ukrainians who are now looking for the required "sponsors".
Preference - to potential "Zrobitchans"
According to Makova, Ukrainian refugees who are looking for sponsors are adults of different ages and professions. Most of them are women with children: primarily because the government of Ukraine has restricted travel abroad for men who fall into the category of "subject to mobilization." Ms Makovoi emphasizes that the refugees she speaks to are actively expressing their willingness to be self-sufficient and work as soon as they are given the opportunity to obtain permission. However, many of these Ukrainians fled with only a limited set of things and some money.
While the US program is portrayed by officials and the media as offering Ukrainians a "glimmer of hope," some refugee resettlement agencies have already expressed "mixed feelings" about it. For example, according to Krish O'Mar Vinyaraj, president of the Lutheran Immigration and Refugee Service, one of the main concerns is that refugees "may take more than two years to return home," whether because of ongoing dangers in Ukraine or other reasons.
Another problem is that the program defines Ukrainians who have fled as "on conditional admission to the United States on humanitarian grounds"—in fact, the same "temporary status" that is given to some people fleeing armed conflicts and other crises.
By coming to the United States as "conditionally admitted" and not officially as refugees, Ukrainians are deprived of two key things that American law provides for refugees with full status - the opportunity to choose for themselves and their families over time whether it is better for them to stay in the United States or return home, as well as the right to meaningful initial financial and integration support
explained Melanie Nezer, senior vice president of global public relations for the Society for Aiding Jewish Immigrants.