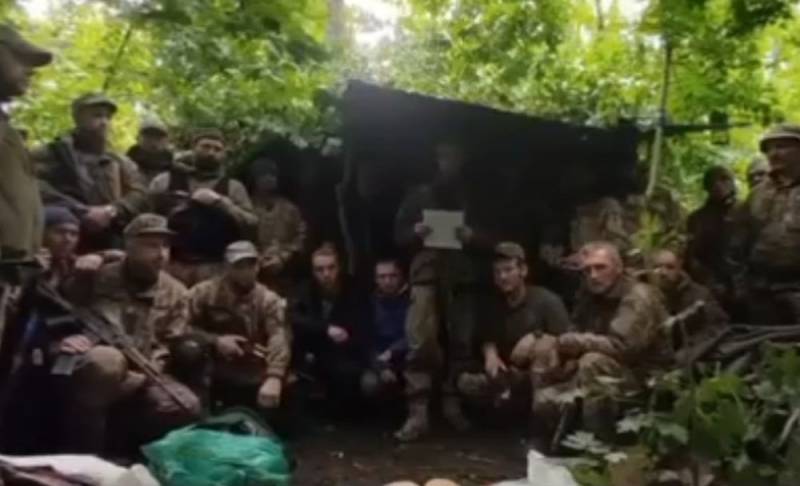 Another video from the Ukrainian military appeared on the Web. This time, fighters from one of the companies of the 13th battalion of the 58th separate motorized infantry brigade named after Hetman Ivan Vyhovsky of the Land Forces of Ukraine turned to the Commander-in-Chief of the Armed Forces of Ukraine Valeriy Zaluzhny.
On May 22, the military (58th Motorized Rifle Brigade, military unit A1376, checkpoint B0425) described the current situation, providing details of what was happening and spreading footage on social networks.
We, the active servicemen of the 58th brigade, 13th battalion, appeal to the Commander-in-Chief of the Armed Forces of Ukraine with a request not to use us as meat and take us to a safe zone for understaffing
technique
, weapons and people. Because at the moment we can not fulfill the tasks assigned to us. Also, in the light of recent events, the personnel need physical and moral and psychological recovery in order to 100% fulfill the tasks assigned to us. We appeal to you, because our command does not hear us and ignores all our requests, setting us tasks that we cannot fulfill. Mr. Commander-in-Chief, in no case do we refuse to defend our Motherland and fulfill our duties as military personnel who took an oath of allegiance to the people of Ukraine and the independence of our state. We hope for your help and understanding
one of the fighters read out the text.
After that, he said that one of the leaders of the 58th brigade, namely the political officer, came to them, who was going to "pull out" 3-4 people and, as he says, "put them in jail." The fighter emphasized that the servicemen want to defend their country, but they are not given such an opportunity. He clarified that they are sent without any training to the front line, most of them are mobilized who have never taken up arms. The unit has problems with protective equipment, running out of food, water and ammunition. He summed up that the leaders of the brigade constantly intimidate them.
Note that these servicemen actually refused to fight. The current location of this unit is unknown. But the permanent location of the brigade is the city of Konotop in the Sumy region. We remind you that in the Verkhovna Rada of Ukraine
proposed
shoot soldiers who have left their positions.
It should be added that the servicemen of one of the platoons of the 3rd Battalion of the 115th Territorial Defense Brigade of the Armed Forces of Ukraine, who before that
told
about the difficult situation at the front, were sent to SIZO No. 6 as deserters. They informed about it in video format.