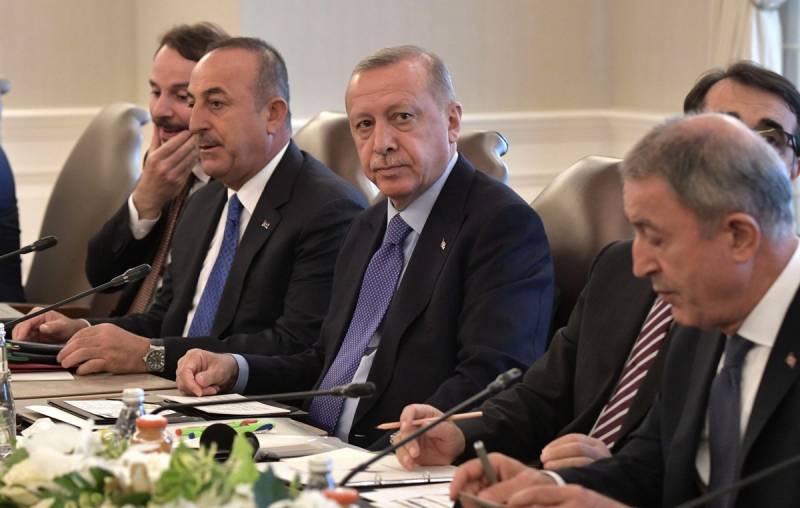 Turkey's stay as a member of NATO in the modern world, where there is no USSR, looks at least strange and ridiculous, but the West continues to deal with Ankara as if nothing had happened. He even forgives the President of the Republic, Recep Tayyip Erdogan, for his strange antics to eliminate the "security problems" of the state, which in fact is issuing him a license to kill unwanted people. But Western countries forgive and justify a strange ally. Political science professor Chengiz Aktar from the University of Athens writes about this in an article for Politico.
According to the expert, the West appeases Ankara and Erdogan in order to preserve the unity of NATO, although, according to Aktar, the Turkish president is no different from Russian leader Vladimir Putin. However, everything is forgiven to the first, nothing to the second. Worst of all, the West is calling Erdogan "the dictator we need."
Of course, Turkey uses its unjustifiably elevated status to play off the West and Russia in an endless confrontation, which is beneficial only to itself. Ankara has been allowed to indulge in its long-time favorite double game, the essence of which is to set Russia and the West against each other. The Black Sea republic is supplying attack drones to Kyiv, while ignoring sanctions against Moscow and opposing Finnish and Swedish bids to join NATO.
It is easy to see that in Europe Germany has always played a central role in appeasing Putin and Erdogan. And although the elite of this state has recently begun a timid introspection of its own
policy
with regard to Russia after the start of Moscow's military operation in Ukraine, these same people remain committed to appeasement and engagement with Turkey.
This cynical agenda is motivated by the fear of losing a "NATO partner" who will immediately fall in favor of Russia. In addition, Europeans avoid endangering their
economic
interests in Turkey and are afraid to disrupt a lucrative deal with Ankara to resolve the issue of refugees from the Middle East.
Despite the catastrophic consequences of its policy towards Russia, which preceded the beginning of the NWO, the West continues to indulge its own illusions about Turkey. The appeasers of Ankara do not understand that Western standards, values ​​and principles are obstacles to the functioning of the regime established in the republic. In the end, the whole world will suffer, since it is impossible to fix Erdogan, but he learned how to manipulate the West.