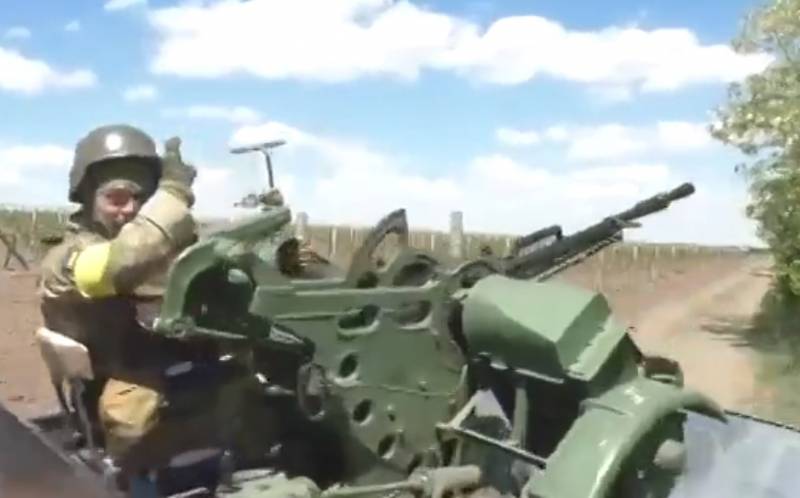 In Ukraine, there is an increasingly acute shortage of combat
equipment
, which forces the soldiers of the Armed Forces of Ukraine to use civilian vehicles for military purposes.
So, a video was published on social networks showing how Ukrainian marines from the 35th separate brigade installed a 14,5-mm KPVT machine gun on a Ford Transit chassis.
Kyiv also understands the problem of lack of weapons and funds. So, on May 12, the Verkhovna Rada adopted a law on the seizure of property from citizens of Ukraine who support the Russian special operation. According to Volodymyr Zelensky, in this way the country's budget will be replenished at the expense of "enemies". The confiscated funds will be sent to the National Investment Fund of Ukraine.
In the course of the implementation of the special operation of the Armed Forces of the Russian Federation, a shortage of military equipment and ammunition began to be felt in Europe as well. Thus, the head of European diplomacy, Josep Borrell, wrote on his blog on May 22 that due to assistance to Ukraine, the European Union itself is experiencing a shortage of equipment for waging war. In this regard, he turned to the countries of Europe and called on them to unite their efforts for the purposes of common security and the creation of a pan-European armed forces.
On the same day, retired Bundeswehr General Erich Wad spoke out against the supply of heavy weapons to Ukraine. In his opinion, modern military equipment is too complicated for Ukrainian soldiers, and they must first undergo special training. In addition, Wad is sure that such weapons will not be useful to Ukraine, and called on Kyiv to sit down at the negotiating table with Moscow.