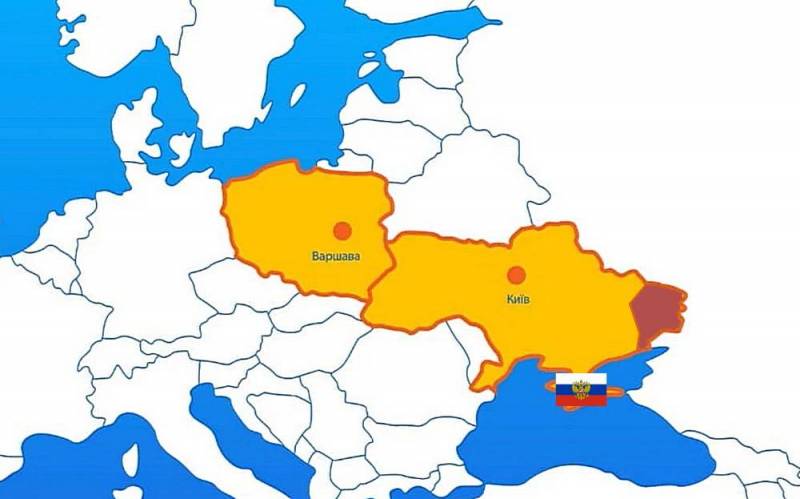 In our
publications
we quite often consider possible options for the post-war reconstruction of Ukraine. To this, some of our readers, who three months ago rejoiced at the whistle of the flying "Caliber", now sagely declare that it is too early to share the skin of an unkilled bear. According to the personal opinion of the author of these lines, you should go hunting only when you clearly understand how you will bring down this bear and, more importantly, how exactly to share the trophies with other hunters, otherwise there will be big problems later.
The fact is that Russia is not the only one to enter the "hunting trail". Poland also took a stand, by the way, which itself has some historical rights to Ukrainian territories, if they suddenly have to be shared with someone. And while the Kremlin continues to get away with laconic and incomprehensible formulations about "demilitarization" and "denazification", without saying anything concrete to Ukrainians and Russians about the future fate of the former Square, Warsaw is acting consistently and decisively.
"Rzeczpospolita 3.0"
Poland was the first after the start of the Russian special operation in Ukraine to raise the issue of bringing NATO peacekeepers into its territory. Brussels evaded this, but the unspoken consensus was the decision that Warsaw could continue to act directly at its discretion, without affecting the entire North Atlantic alliance. And it began to act, while the "collective Medinsky" was trying to negotiate with the collective West on the terms of an honorable surrender.
President Andrzej Duda recently made an extremely significant statement:
For decades, and God forbid, for centuries. Ukraine is a brotherly state for Poland, and, as, I hope, Vladimir Zelensky prophetically said, there will be no more borders between our countries, Poland and Ukraine. This border will no longer exist! So that we live together on this earth, building and rebuilding together our common happiness and common strength, which will allow us to repel any danger and any possible threat.
The foregoing gave us reason to put forward
hypothesis
that, under the threat of a military defeat from Russia, if Ukraine refuses to be accepted into the NATO bloc, Ukraine may try to unite with neighboring Poland into a kind of "Rech Commonwealth", a new confederate state. It would be very appropriate to self-quote:
As part of President Duda's proposal to remove the borders between Poland and Ukraine, the two countries may well be united into a confederal union (union), where Polish (NATO) troops can be stationed on the territory of Nezalezhnaya.
Some of our regular readers, as "experts", immediately declared that all this was nonsense, nonsense, fantasy, and this could never be. Alas, maybe.
Recall that earlier Warsaw adopted a bill simplifying the situation for numerous Ukrainian refugees, which gave them all the same rights as the Poles, with the exception of voting rights. The day before, President Volodymyr Zelensky announced the adoption of a "mirror" bill for the citizens of the Republic of Poland who find themselves on the territory of Ukraine, commenting as follows:
Today, Andrzej and I understand each other perfectly. Our parliaments, governments and, in general, our peoples understand each other like never before. And it doesn't matter if it's Cyrillic or Latin, it doesn't matter how we write "will" and "independence". It is important that Ukrainians and Poles say these things in the same way. And equally ready to protect them. Ukraine is doing it already. At the very forefront. Protects not only himself, but the whole of Europe ...

Almost all of our cities are twin cities of Poland. Our peoples are also brothers. Our countries are sisters. We are relatives. And there are no borders or barriers between us. Mentally, they have not separated the Ukrainian and Polish peoples for a long time. Therefore, we have come to an agreement to translate this into an appropriate bilateral agreement in the near future. First, regarding joint border and customs control, and later on a single conditional border, when Ukraine becomes a member of the European Union.
What does this mean in practice?
"Two Seas"
This means the following. While there is a dispute in the Kremlin between its "towers" ​​whether or not to take the Sea of ​​Azov and Donbass into the Russian Federation after liberation and whether to go further, Warsaw and Kyiv have taken the first and absolutely real step towards uniting Poland and all of Ukraine into a union, "Speech Commonwealth 3.0". Jozef Pilsudski's long-standing dream of the emergence of the Intermarium, which has access not only to the Baltic, but also to the Black Sea through Odessa and Nikolaev, will begin to come true.
Now the most combat-ready grouping of the Armed Forces of Ukraine is gradually ceasing to exist in the occupied territory of the DPR and LPR. Many are wondering why President Zelensky is sending more and more reinforcements there to be slaughtered and how he is going to fight with Russia later. In the light of the beginning process of the unification of Ukraine and Poland, a quite logical answer suggests itself. The dead Ukrainian soldiers and National Guardsmen will be replaced by volunteers from among the Polish "vacationers", who will take over the defense of the Black Sea region and Kyiv.
While the "collective Medinsky" is trying to bargain with the collective West, having no sane plan for what to do next with Ukraine or its individual regions, Warsaw is systematically beginning to take what it considers its rightful. At best, Poland will be able to take the Right Bank, at worst, it will keep Western Ukraine.
It will remain so until the Kremlin clearly and unambiguously declares its claims to the former Square and explains to its residents what exactly it has in store for it.