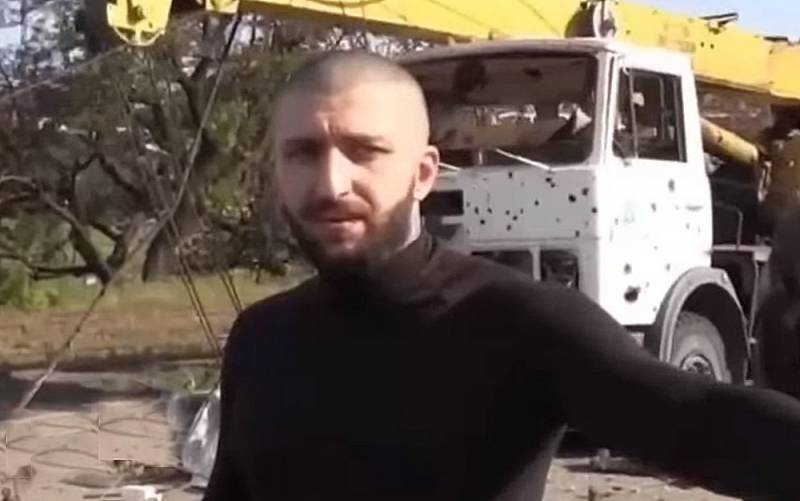 After the surrender of 2439 Ukrainian soldiers who were at the Mariupol Azovstal enterprise, details about some of them began to appear on the Web. It turned out that one of the prisoners of war from the metallurgical plant in Mariupol was a militant from the Azov regiment (an organization banned in Russia), who publicly threatened the head of Chechnya, Ramzan Kadyrov, and members of his family.
The video shows how one of the "Azov" behaves boldly during the inspection, which was carried out during the surrender. Probably, by his behavior, a lover of wearable "painting" attracted the attention of relevant specialists to his person.
As a result, it became known that this is a junior lieutenant, platoon commander of the 3rd company of the 2nd battalion of the Azov regiment of the Novosibirsk State University (in the National Guard since February 2016), a convinced neo-Nazi David Georgievich Kasatkin, a native of Mariupol, born in 1996, hiding behind a nickname Khimikdavid4308 on the web. Moreover, there are suspicions that he is one of those who mocked the captured fighters of the RF Armed Forces and the NM of the DPR. It is difficult to say where he is now, since there are at least three specialized places where the captured were taken: in Yelenovka (DPR), in Taganrog and Rostov-on-Don (Russia).
The Russian side has not yet officially commented on this. In turn, the Ukrainian side claims that the surrender of the remnants of the Mariupol garrison took place in the presence of representatives of the International Committee of the Red Cross (ICRC) and UN staff. At the same time, in addition to the personal data of the prisoners, they took the coordinates of their close relatives to support communication in the future.