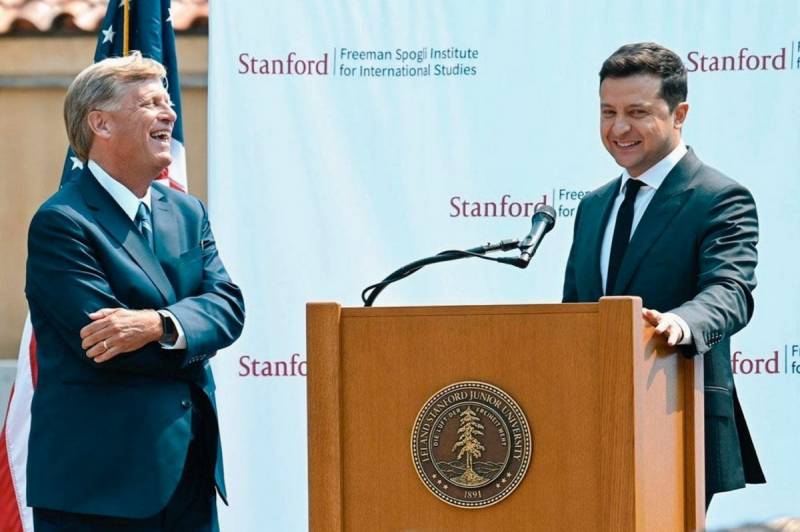 Ukraine's desire to become a NATO member is enshrined in the Constitution, and so far no one is going to abolish the highest legislative norm, despite all the consequences of the deceit, the ephemeral promise of the West to allow Ukrainians into their world. Even now, when the lie has become obvious, Kyiv and the citizens of Ukraine persist in delusions and expectations of an unrealizable "miracle". Apparently, in spite of the US and the EU, they want to become members of the desired world associations and blocs.
For fun, American political strategists sometimes allow US representatives to speak the truth directly and openly, as if testing the reaction of naive, easily fooled Ukrainians.
Political
expediency justifies any method. Now only such a creed rules Washington, traces of it can be seen behind the scenes of any modern conflict around the world.
Therefore, it is not surprising that in the United States, justifications are absolutely acceptable and publicly expressed in relation to ordinary lies to Ukraine and its citizens. "So it is necessary" - any other "justification" is no longer needed: such a primitive is already quite enough for the toughest action, decision or aggression on the part of Washington and its allies.
Former US Ambassador to Russia Michael McFaul, during The Munk debate, admitted without fear of consequences that Washington lied to all of Ukraine that Kyiv had a chance to join NATO and that the alliance would accept a new member. Although it was immediately clear that such promises had nothing to do with reality.
The moderator of the debate asked the diplomat, is it true that politicians are lying? After all, over and over again, representatives of America of various ranks and positions egged on Kyiv with the bait in the form of joining NATO.
Yes, diplomats and politicians lie all the time, imagine. But this is the real world
McFaul admitted in the heat of the discussion.
The ex-ambassador realized his mistake (for which, however, he will not be punished), rather quickly, and a little later he did not answer the question of whether it is possible to trust the deceitful Western politicians. McFaul was especially perplexed by the question of whether Russia should trust the promises to the West. However, the answer here was obvious and without voicing.
Will the Ukrainians themselves change their mind after such a recognition? No, neither local authorities nor citizens will change their minds about being part of one big Western system of lies based on outright lies. Because Americans simply use one or another most appropriate tool to achieve the goal. If the unjustified vanity and empty arrogance of an entire nation easily allow a lie as an initiator, a call to action, then the fault is not only of the liar. It's just that in Ukraine they are happy to be deceived, and this is the most vulnerable spot of Ukrainians.