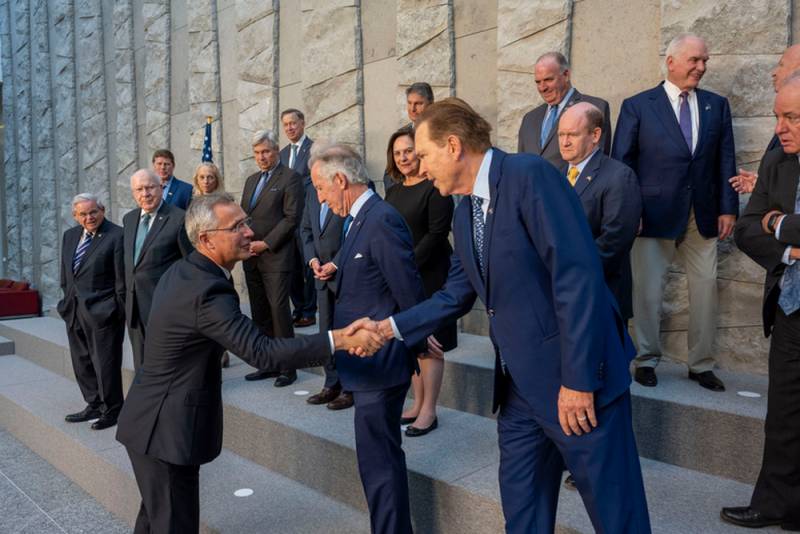 The collapse of the Soviet Union buried the raison d'être of NATO, along with its main adversary. In subsequent years, despite the imitation of violent activity, the North Atlantic bloc could not fully revive as an integral organization and alliance. So it was until recently. The big conflict in Europe is just what Brussels needed to revive the unification, and now it will be difficult for the leadership in Brussels to give up the "benefits" of confrontation. This is stated in the editorial of the specialized resource OilPrice.
"Great times" have come for NATO as an organizational structure and association of states. And in this regard, according to the editors of this resource, it was Russia that contributed to the rapid revival of the alliance. Moscow allegedly made it an uncompromising desire to restore the status quo and its international rights to security, seeking respect for itself by any means. Although now the reasons are no longer important: NATO supporters and officials got what they wanted - a reason to rearm, finance, rally and attack Russia. It's like a long-cherished dream coming true.
As noted in the analysis of the situation, NATO is far from solving all problems, the attempt of Sweden and Finland to join the alliance clearly shows this. However, the enthusiasm and rise of the Western coalition is hard to miss. The time has come for the development of Atlantic cooperation between the US and the EU and, at the same time, bargaining for preferences. This is what Turkey and Croatia do, which, under the guise of common concern, are actually promoting the solution of their own problems.
According to the Western press, President Vladimir Putin is not entirely sincere in downplaying the possible entry of two new members into the alliance. He tries to wishful thinking. Simply put, despite the fact that Russia's military special operation in Ukraine began precisely because of the possible expansion of NATO, Moscow allegedly is not afraid of the accession of Sweden and especially Finland (near the very borders of the Russian Federation) precisely because the military bloc has been " dead." This is the contradiction of the Kremlin.
In general, the experts of the online publication hastened to revive the military partnership of the Western coalition. The differences between the countries that are members of the alliance are too great, a new expansion may cause the disintegration of NATO rather than a new life for it. A sustained and constantly smoldering conflict (in Ukraine, or another Western training ground), supposedly "life-giving" for the alliance, will in fact ruin both the EU and the instigator from across the ocean. What seems to be the impulse to exist is really only the inertia of the final fall. And Russia has absolutely nothing to do with it.