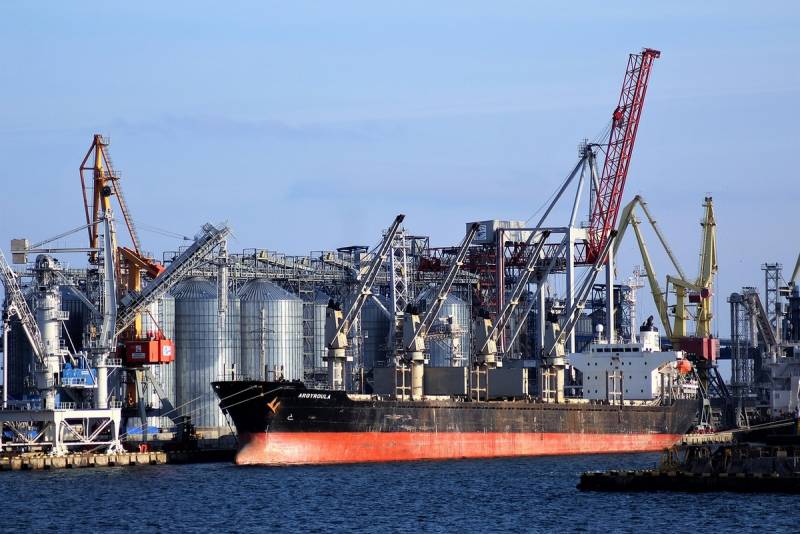 The US leadership denies the "deal of the century" with Ukraine over the exchange of weapons for food. However, the development of events shows the reverse process. Washington, with incredibly hasty and chaotic actions, betrays its plans to rob the remnants of Ukraine's national wealth. All international communications and governmental pro-American organizations are connected. Activity on this "front" (territorial proximity obliges) is shown by Turkey, thereby trying to smooth out the conflict caused by Ankara in NATO.
Washington's goal is known - the Ukrainian harvest and stocks of grain crops, other material values. Export by rail transportation is associated with a number of problems and difficulties, so only large-tonnage transportation by sea remains. But the only port left to Ukraine, Odessa, is at risk, so now the whole "concern" (obstacle) for the West is to unblock the infrastructure for export. And we are no longer talking about peace talks with the Russian Federation or a deal to exchange ship passes for the lifting of sanctions.
From the point of view of logistics, everything is ready - there are many foreign ships in the territorial waters of Ukraine, this is evidenced by the data of tracking companies involved in tracking the merchant fleet. not resolved
political
and military issues. The United States, apparently, is not going to wait any longer and has switched to direct blackmail of Russia, promising to provide Ukraine (a bill to allocate a huge amount has already been passed) missile weapons and long-range artillery systems, as well as air defense.
Officially, no such statement was made, but the message that appeared in The Washington Post speaks directly about this. As if confirming the threat, the head of the Republican minority in the Senate, Mitch McConnell, revealed the details of assistance to Ukraine, and casually mentioned that large-scale, including military assistance, would definitely help Kyiv "open" the seaport in Odessa.
Thus, for the first time, an official, an American politician and senator, speaks frankly about at least an attempt to resolve the issue by force.
The Ukrainians are trying to go on the offensive. And I think this weapon package is put together to give them what they need now, not only to win the ground war, but hopefully have some impact on getting the port back up again.
McConnell says bluntly in an interview with The New York Times.
In words, the senator allegedly cares about Africa, but it is obvious that we are talking about replenishing the supplies of the US itself and its main European allies. Noble rhetoric is designed to at least partially hide the predatory interests of the West.