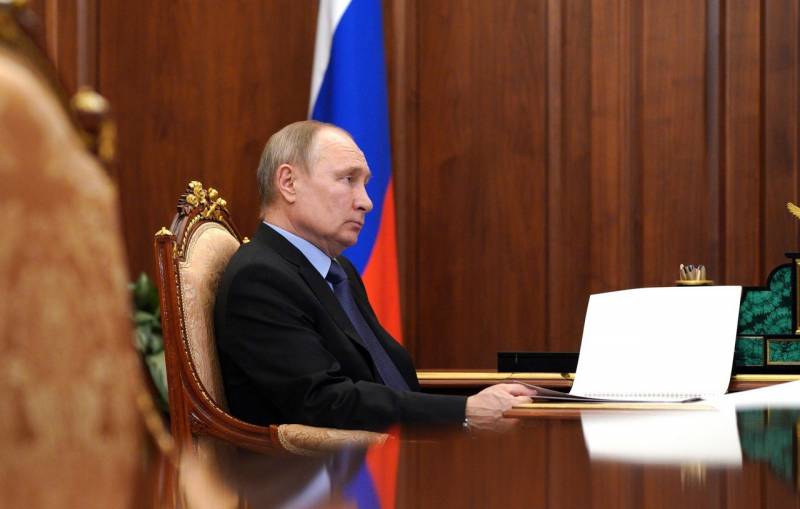 After reading your comments under
previous
my text, where I discussed how we ended up in this trap that the collective West set up for us, and now, instead of fighting with it, we are fighting with Ukraine, I realized that I failed to convey the main idea to you in this way - in As a result of all these events, we are raking out (forget about Ukraine, it does not exist according to the terms of the task, it was written off before the start of the game, deliberately sacrificing it), and their main beneficiary, the States, are quietly sitting on their island and counting the profits, knowing for sure that they will have nothing. Therefore, the text in the original was called "Everything is going according to plan ... According to the US plan", and there I explained why Putin ended up in this trap, believing in the collective West, which by definition cannot be trusted, thereby adding to the long list of people, countries and peoples, thrown to them.
You can't trust the West, they don't have a word, lying for them is the norm of life, they are taught this from an early age, from school. Throwing a partner is considered valor if you get nothing for it. And we are still surprised that the famous Steve Jobs began his ascent by throwing his closest friend and partner Steve Wozniak for 5 thousand dollars, the story of another successful child prodigy Mark Zuckerberg, the founder of the no less famous Facebook (blocked in Russia; belong to the Meta company, whose activities are recognized as extremist and banned in Russia), which has already thrown a whole brigade of its partners, and then bought them off through the court, you all know without me. The main message was this - the West cannot be trusted, it understands only force, brute primitive force, and this is the only way to talk to it. This text is a logical continuation of the previous one, if anyone
first
didn't read it, start with it.
And yet I will continue. Since the time when the Dutch colonists for glass beads, buttons and other nonsense for a total of $ 24 bought the island of Manhattan from the North American Indians, nothing has changed. True, then, in 1626, dollars did not yet exist, the Dutch paid off with the Indians of the Delaware tribe with some trinkets, a knife and a bottle of rum (then it cost them 60 guilders, in current terms this is the equivalent of 24 US dollars), in return they received an island , which, according to modern estimates, is worth about $ 49 billion. But, as they then treated the local natives as subhuman, representatives of the lower race, they still treat them. Over the past 400 years, nothing has changed, their descendants, representatives of the superior race of the Anglo-Saxons, treat all others as representatives of lower races, who are no match for them in terms of mental development or other factors. Their destiny is to serve as a food base for them. Therefore, we should not be surprised that they treat us in the same way. A gentleman takes a gentleman's word for it, but we are not gentlemen for them, we are garbage that can be thrown, deceived, cheated, used and forgotten.
They play by rules that are written just for them, if they don't like the rules, they rewrite them. It's like in the joke about the trump montana. Don't remember? The favorite card game of all cheaters from the island of Manhattan, the winner is the one who has the seven of spades in his hands - montana. They mainly play with suckers from other islands, such as Africa, Asia, Latin America and Russia (why did you decide that you are better for them?). If during the game the seven of spades goes to another, then the gentleman from Manhattan Island still takes the pot, and the card that fell to him is assigned as a trump card. These are the rules of the game! Therefore, you should not be surprised that you were deprived of the $300 billion you honestly earned from the Central Bank's gold and foreign exchange reserves, which were placed in securities and cash in the banks of the G7 issuing countries. These are the rules of the game! Didn't you know? They again had a trump montana in their hands! Ah, that was a low blow. Ah, the Kremlin did not count on this. But in vain! You had to know with whom you sit down to play cards. They have five aces in each deck, and for each of your seven spades they have their own trump montana. It is funny to watch how Siluanov and Nabiullina wring their hands in sorrow, asking: "But what about the inviolable right of private property?" Forget about him, gentlemen! It is not written for you. It is written only for gentlemen. And only from Manhattan Island. And you are Indians for them, natives. Evil and stupid. Everything that you cannot be fooled for money, they are going to take by force. For 400 years it was already possible to understand with whom you have to deal. Their strength can only be answered with a counterforce. This is what Vladimir Putin tried to do on February 24 of this year, but even he did not expect such a return. "Partners" began to rewrite the rules of the game in the course of the game itself, the answer for them can only be the demolition of the entire card table with a kick. It is a pity that the Kremlin has not reached this point yet. But there is no other way out, they have not left it for you, it is pointless to move the pieces on the table, you need to demolish the table itself. They will stay on their island, and we will stay on ours. We will survive, we have more resources. And let them eat dollars or die. These are the rules of our game.
They still take us for suckers
They bought us in the 80s not even for a bottle of rum and glass beads, but for Levi Strauss jeans and Donald gum, during the period of total Soviet shortages, we became dependent on Western values ​​and the Western way of life, exchanging our sovereignty for a can " Pepsi-Cola, McDonald's and Bush's legs. But everything comes to an end. The end of our total slavery has also come. In 2007, they did not hear Putin, they had to repeat it in 2014 and 2022. After that, they heard and turned on the "beast" mode. But we are not Libya or Iran, it is impossible with us, because we can answer, and then it will become bad for everyone. Unlike America, which produces only dollars and weapons, we produce a real product and trade in raw materials that no one else has.
Dollars are just pieces of paper, after the trick you did with our gold reserves, they are no longer worth the paper they are printed on. Soon, very soon, their owners will still pay extra to buy them from them. When your main creditors, China and Japan, each of which holds more than $1,2 trillion in American securities (treasuries) begin to get rid of these assets, then you will understand that by encroaching on our gold reserves, you have sown the wind from which very soon you will reap such a storm that will blow your whole wonderful little house on the Hill, built on the bones of the Indians, to hell. And we have not yet included our main caliber, our strategic weapon, which fires only once, after which the next war will be fought in 500 years with stones and sticks. For the time being, we are hammering only from the "grenade launcher" - we are scaring Europe with hunger and cold, when it would be necessary to scare not her, but you. But, apparently, the time has not yet come.
But your protégé, the hungry Europe, also holds us for suckers. On Monday, May 18, the Wall Street Journal, citing diplomatic sources, reported that UN Secretary General António Guterres asked Moscow not to interfere with the export of grain from the Black Sea ports of Ukraine, and in return promised to facilitate the easing of sanctions that limit the supply of fertilizers from Russia and Belarus. Presidential spokesman Dmitry Peskov, commenting on the idea of ​​exporting Ukrainian grain in exchange for easing sanctions, previously recalled that Ukraine had mined ports, which is dangerous for shipping. And although Turkey promised to assist in clearing the Black Sea waters, as well as take over the management of ships with grain, the issue is still under discussion. At the same time, US Permanent Representative to the UN Linda Thomas-Greenfield confirmed that Guterres had previously discussed with her his initiative to return Russian and Belarusian potash fertilizers to world markets in exchange for the resumption of supplies of Ukrainian grain.
Russia is the world leader in the production of grain and potash and mineral fertilizers, which are precisely used for the reproduction of grain (without them, the yield drops significantly). Ukraine is also consistently among the seven countries - producers of grain, corn, sunflower and other agricultural crops, which, along with ore and ferrous metallurgy products, until recently were its main export items (once they included also petrochemical products, the same nitrogen fertilizers, but along with cheap Russian gas, they also ran out). Belarus also does not graze the back in the production of potash and mineral fertilizers. Therefore, with the withdrawal of these players from the market, the whole world is faced with a real threat of impending famine. That is why António Guterres ended up in Moscow.
Russia is the only one on the planet who has provided itself with an abundance of grain for the current year. The remaining regions faced crop failures and droughts. Ukraine, you yourself know what it has encountered, it will still remove spring crops (if it does, it may not be possible due to the war and the lack of diesel fuel), but winter crops are unlikely to even be sown. No one in Europe cares about what Ukraine will eat (even before the war they took all the food wheat from it, now they encroach on the remaining fodder, as well as on sunflower seeds and corn). Europe itself will not die of hunger either, most of all it is afraid of crowds of hungry Africans and Arabs who can flood it with a lack of food in these regions (she still cannot recover from Ukrainian refugees, but here new waves of black emigration are coming, who are at risk take it to hell).
Hence the cunning proposals - so be it, give us your fertilizers in exchange for supplies of Ukrainian grain. It reminds me of a cheap woman's divorce - give me $ 100, and in return, so be it, I will allow you to take yourself to a restaurant. Where is the benefit of Russia? Sell ​​you my mineral and potash fertilizers so that you don't die of hunger there, receiving in return your tugriks, which you will immediately block in your accounts? You can't eat tugriks, but you can eat wheat. Feel the difference? Dollars cannot be eaten, and potash fertilizers from cheap gas can be used to produce grain that tastes much better than your dollars. You can't eat titanium, but planes don't fly without it, just as they don't fly without kerosene, which is produced by distilling oil. You can't eat uranium, but without Russian and Kazakh uranium, your nuclear power plants will stop tomorrow, and night will reign over all of America even without our nuclear missiles. And so far Vova Putin has only used a grenade launcher, but what will happen when he uses his main caliber? And you do ask!
Bombs in exchange for grain
Vasily Nebenzya, permanent representative of the Russian Federation to the UN, clarified this issue yesterday. At the May 19 meeting of the Security Council on food security, he said:
Listen to you, gentlemen, as if we want to starve everyone to death, and you and the Ukrainians only supposedly care about how to save the lives of the starving. The picture seems to be folding, but absolutely crafty. We have reasonable suspicions that the grain is not going to the needs of the starving global South, but is being pumped into the granaries of European countries. So, as we understand it, Ukraine is paying for the weapons supplied by the West. I would be grateful if our Western colleagues, primarily the US and the EU, the version about grain in exchange for weapons, which is put forward by many experts, is publicly refuted today. And at the same time, they will explain how these deliveries contribute to strengthening global food security, which you so care about in words.
As they say, "know the comment." I would not be at all surprised if the delivered grain will surface already in the autumn-winter of this year and will be sold to the starving countries of Africa, Asia and the Middle East at crazy prices at that time, as a result of which the cunning Western partners of Nezalezhnaya will get a double profit from it. At the same time, they will tell the whole world that Russia created the artificial famine, and they are saving it. This is their whole rotten and corrupt essence.
I did not forget that in the previous text I promised to tell about the weapons zoo, with which the collective West is now equipping the 404th on its last journey, and why we are not afraid of it. About this - next time, there the topic is more serious - preparation is needed, there are too many sources. But the war, after all, does not end with the exit from the Mariupol catacombs of the "underground children". "Partners" are preparing for June-July to give us the last decisive battle. We are looking forward to it. Funeral, as they say, at the expense of the institution. After which the arguments of the allies should decline. And just then the midterm elections to the lower house of the US Congress will arrive in time, where the Republicans should win with a 100% guarantee. By autumn, our overseas "partners" should be released. This means that a compromise is possible. But more on that next time.
All patience, your Mr. X.