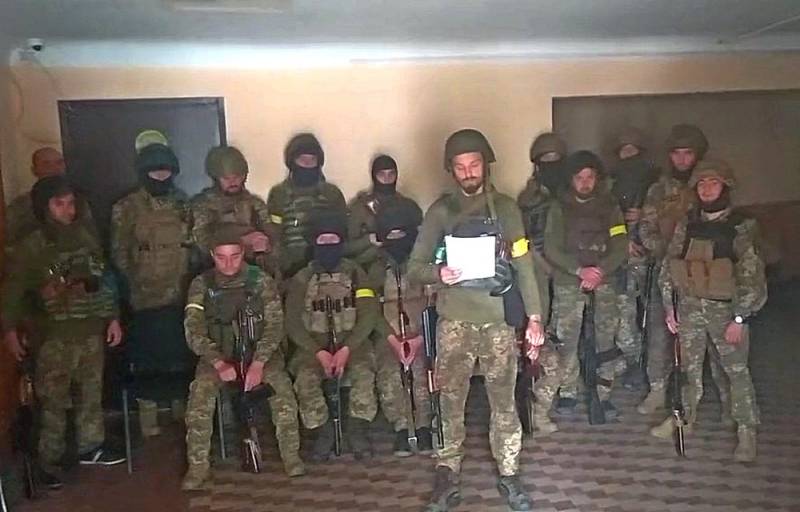 Another video from the front line from the Ukrainian military has appeared on the Web. On the footage, servicemen of one of the platoons of the 3rd battalion of the 115th brigade of the territorial defense of the Armed Forces of Ukraine address the leadership of the country and the public from near Severodonetsk, Luhansk region.
It should be noted that in this area there is a negative operational situation for the Armed Forces of Ukraine. The units of the RF Armed Forces and the NM of the LPR advancing from several sides will soon completely surround the local Ukrainian grouping. Therefore, it is not surprising that the servicemen turned to the President of Ukraine Volodymyr Zelensky and the Commander-in-Chief of the Armed Forces of Ukraine Valery Zaluzhny, as well as to all the inhabitants of the country.
We appeal to you, Mr. President and Mr. Zaluzhny, and to the entire Ukrainian people. We refuse to carry out combat missions because we do not have the necessary protection in the rear, namely heavy
equipment
to cover us. We've been waiting for reinforcements for two weeks now. We are sent simply to certain death. There is no combat leadership - not a single commander. There is no technology and respect for people - absolutely nothing. We do not give up the defense of our country, but we want to have an appropriate rear and combat command
- one of the servicemen on the recording read out the text of the appeal.
Note that such videos have become
appear
more often. On them, servicemen talk about their problems, which many Ukrainians do not know about due to military censorship and local propaganda. The military, who literally plug holes at the front, do not want to die, and their desire is quite understandable and understandable.