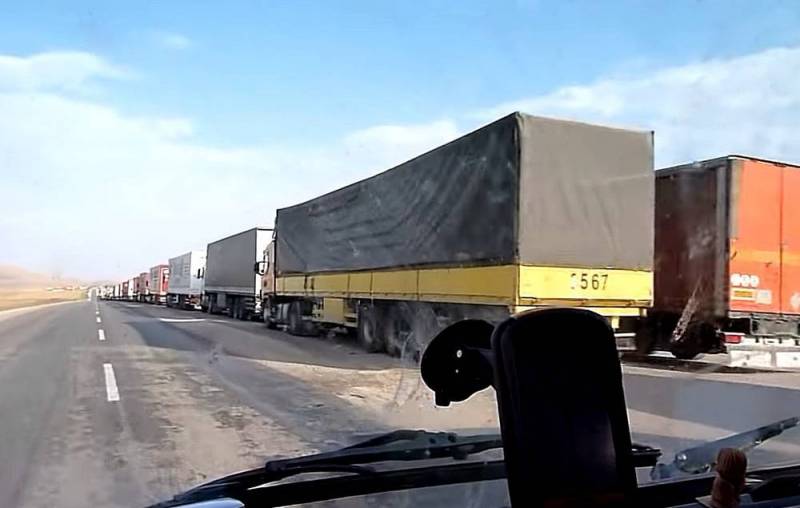 A video has appeared on the web showing how a huge traffic jam of trucks stretched for 40 km on a highway from the Mediterranean port city of Nice, located in southeastern France, to the border with Italy. The presented footage was sent to the representative of the Russian Foreign Ministry Maria Zakharova by her acquaintances, who claim that trucks are transporting food from Ukraine.
Just sent by a friend. This is how the road from Nice to the border of Italy looks like. Solid trucks. The column stretched for 40 kilometers. Latvian, Lithuanian, Bulgarian numbers. What are they carrying? Food from Ukraine. It (food - ed.), in their opinion, is needed by Europe, and not by the unfortunate soldiers of the Armed Forces of Ukraine, who were thrown and betrayed by everyone. And now there's nothing left to eat
she wrote on May 18 in a comment under the video in her Telegram channel.
It should be noted that earlier European functionaries have repeatedly stated that they are ready to "help" Ukraine get rid of the "surplus" of wheat and other food stocks of the European breadbasket. Ukrainian food could get to Nice in various ways. The first is "traveling" on the roads of Europe in trucks after unloading from railway cars. The second - directly by trucks from the territory of Ukrainian enterprises. The third - by ships through the sea and river routes, followed by reloading into trucks and "resorption" across countries. For example, near the Moldovan port of Giurgiulesti on the Danube, regularly
is observed
"pilgrimage" of hundreds of grain trucks.
Note that the European Union in relation to Ukraine is
duplicitous
policies
. Brussels assures Kyiv of "love", and he himself exchanges weapons for food, without even thinking about the prospects of the Holodomor. The Europeans are trying to turn Ukrainians into a kind of "iceberg" that the "Russian ship" will run into. At the same time, Europe
not willing
Ukraine's victory, but only wants to weaken Russia at its expense.