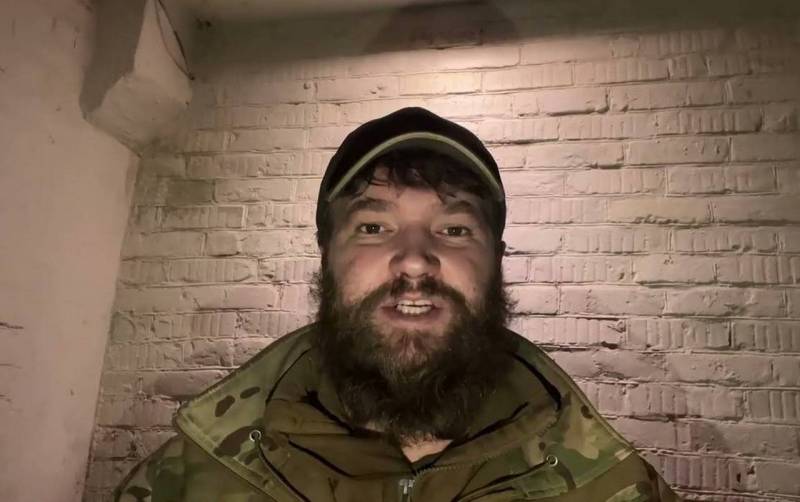 The epic with the voluntary surrender of the Mariupol garrison of the Ukrainian military, dug in at the Azovstal plant, to the Armed Forces of the Russian Federation and the NM of the DPR, is probably nearing completion. On the evening of May 18, the deputy commander of the Azov regiment (an organization banned in Russia) Svyatoslav "Kalina" Palamar left the enterprise. This was announced in his Telegram channel "Russian tarantas" Russian journalist Dmitry Steshin.
"Kalina" left the "Azovstal", said a familiar fighter. Last night, around 21:00. By a strange coincidence, I went out to the Luger platoon - these are the guys who are in the microdistrict. "Vostochny" spent 17 days in a high-rise building in complete encirclement, and they were supplied by a cable thrown between the houses with the help of a drone. Now they are working with Kalina. We are waiting for the final press conference of Kalina
- wrote at 07:12 in the morning on May 19, the military commander of the Komsomolskaya Pravda publication.
On the evening of May 18, Deputy Head of the Ministry of Defense of Ukraine Anna Malyar urged compatriots not to take Russian statements about Azov to heart and be patient. She stressed that the process is very sensitive, and any information that the Ukrainian side makes public could damage this case (the exchange of prisoners of war).
I understand that everyone wants to know at least some information, but the rescue operation is underway. This is the first. Secondly, negotiations are underway, because the rescue operation itself has several complex stages.
- said the Deputy Minister of Defense.
We remind you that May 16
began
Voluntary surrender of the Ukrainian military from the Azovstal plant in Mariupol to the Armed Forces of the Russian Federation and the NM of the DPR - militants of the Azov regiment, as well as military personnel of the 12th brigade of the National Guard, the 36th Brigade, local border guards, police officers and participants in the defense. May 17 appeared on the web
staff
from Taganrog, which show how a column of paddy wagons of the Federal Penitentiary Service of Russia passes along one of the streets of the city, probably transporting surrendered Ukrainian soldiers. It is known that about 1000 security officials have already surrendered. At the same time, the Ukrainian side claimed that there were approximately 2000 military personnel at Azovstal. The real state of affairs will become known in the near future.