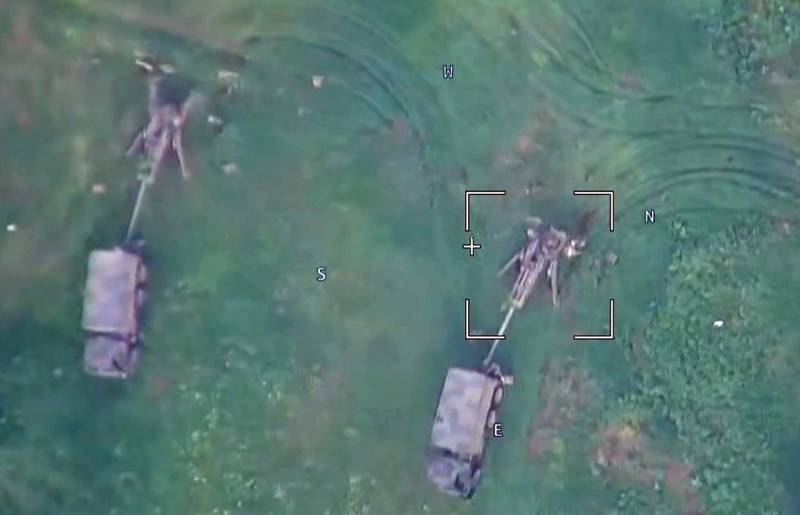 On May 18, a Russian kamikaze drone "Cube" attacked an American 155-mm M777 howitzer during the fighting near the village of Podgornoye, Donetsk region. As a result of the actions of the UAV, the combat crews of several guns were hit.
A video with the arrival of a Russian unmanned aerial vehicle was published by the press service of the Russian Defense Ministry.
Previously, with the help of drones and artillery reconnaissance, the coordinates of the targets were established, after which the UAV operators struck. The Ukrainian servicemen tried to hide the guns in the forest, but the howitzers were attacked by Russian multiple rocket launchers, as a result of which the weapons were destroyed, and the surviving soldiers of the Armed Forces of Ukraine fled.
М777 were delivered to Ukraine by "partners" from the USA, Australia and Canada. At the moment, about 90 such guns are at the disposal of the Armed Forces of Ukraine. The howitzers are capable of firing Excalibur projectiles at a distance of up to 40 km, but the M777s brought to Ukraine lack digital fire control systems. Apparently, the Americans dismantled them so that the systems would not fall into the hands of the Russians.
Meanwhile, Washington on the eve announced a possible suspension of arms shipments to Ukraine, as a $40 billion aid package was blocked by Kentucky Senator Rand Paul. At the same time, this vote will not affect the final approval of the bill on supplies - just the start of the shipment of weapons will be shifted in time.