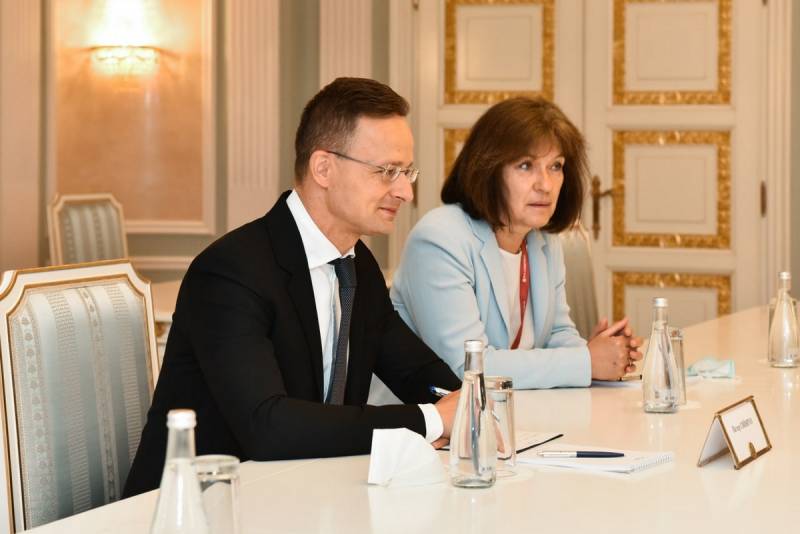 The issue of an oil embargo on Russian oil for Europe is resolved - the restriction will be introduced, albeit with some "delay". Hungary staged a real trade in vote (the right to veto), trying to get as many privileges and funding from the European Union as possible for refusing to block the sixth round of sanctions. Budapest chose a convenient time to raise rates and achieved its goal: in the EU they started talking about big compensations, the Hungarian Foreign Ministry with great pleasure announced the price of its vote.
The modern geopolitical reality of Europe does not mean by the concept of "position" anything but a commodity for hard bargaining. At the same time, the publicly declared intention to side with the enemy is nothing more than an attempt to raise the stakes. The accuracy of this statement is easy to see on a simple example, because the same Hungary allegedly stands for Russia, but is not against the admission of Sweden and Finland to NATO (which is clearly disadvantageous for the Russian Federation). This was directly stated by the head of the Foreign Ministry of this country, Peter Szijjarto.
The official was also put in charge of selling the right to veto the sixth round of sanctions against Russia. So far, the document has not been adopted, because Hungary is desperately trying to make the most of the situation, as time is against Budapest. In any case, without waiting for the introduction of an external embargo, Russia will redirect oil exports to Asia and other markets.
That is why Szijjarto's original demands for a price of 750 million euros for compliance were sharply revised and changed to a more substantial 18 billion euros "compensation" in the form of a financial "gift" (irrevocably). But why not? If Ukraine receives 40 billion dollars from the USA and 30 billion euros from the EU, then the principle of blackmail can be applied to a European country.
The Reuters agency writes about the amount of compensation. At the same time, Szijjarto describes such a deal as compensatory, because this is the amount that Hungary supposedly needs to spend to purchase from alternative traders after leaving Russian oil.
It is possible that in the near future the amount may increase. The thing is that the new figure of 18 billion includes only compensation for the difference in price, but not the loss of Budapest from the cessation of the supply of raw materials, which the local infrastructure and refineries are designed for. In any case, Hungary will try to raise the amount of compensation again with the help of such a well-founded argument, while Europe is in a hurry to pass the stalled sanctions bill. Trading continues.