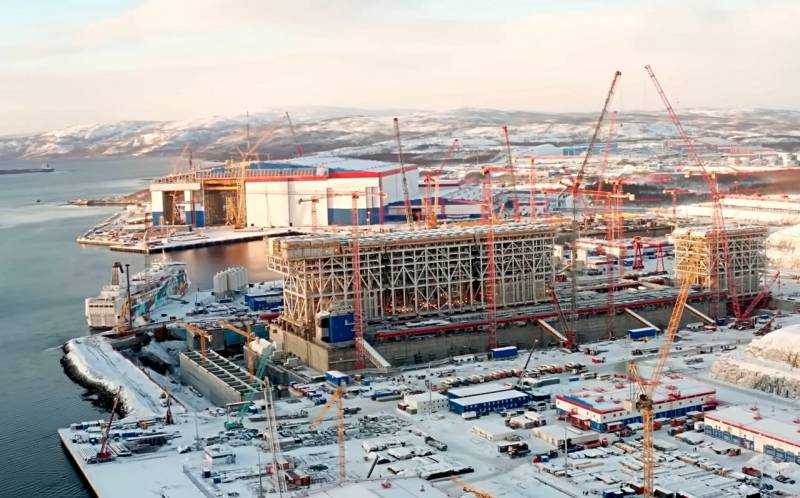 The day before, the largest factory shop in our country started working. Its dimensions are really impressive: 345 x 280 x 93 meters. The enterprise, which will employ more than 5 thousand people around the clock, is part of the Center for the construction of large-capacity offshore structures of the Arctic LNG-2 project.
But why did Russia need such a truly "gigantic" structure? The thing is that no less large ships will be built on it.
Moreover, the latter will be assembled not from metal, but from concrete, which seems incredible. Nevertheless, they learned to build such floating platforms in the XNUMXth century.
The "Concrete Fleet" has a number of advantages: it is not subject to corrosion, keeps well on the water, and also does not require a large amount of metal.
At the same time, such ships also have disadvantages: they have too much draft and are extremely clumsy. However, for some purposes they are ideal.
For example, to create floating LNG plants, which is what specialists at the aforementioned enterprise will do. Despite the fact that it is advisable to build natural gas liquefaction plants directly near the fields, this option is not always suitable.
In particular, it will be extremely difficult and costly to build a plant in the Arctic, where, by the way, we have enough deposits. It is for this purpose that the so-called mobile LNG will be created, which can be brought ashore and put into operation at any time.
It is worth noting that in the case of our gas production volumes, the vessel with the plant must be truly gigantic. Today, simply no one builds such.
That is why it was decided to launch its own "gigantic" plant in Murmansk, where Russia has already started building its "concrete fleet".