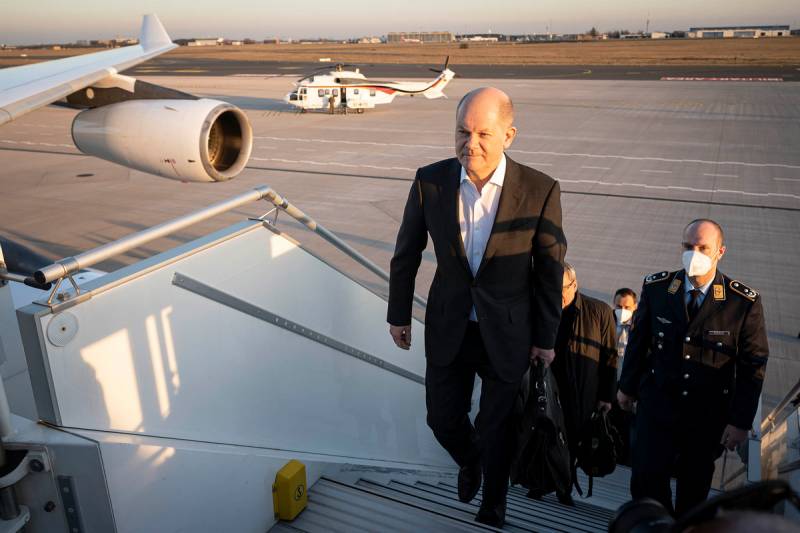 The introduction of new sanctions against Russia is supposedly the way to peace in Europe.
Economic
и
political
pressure leads to the results that the EU and the US want to achieve. In some ways, this outcome is even better than outright conflict and world war - a softer way to avoid something more terrible. This opinion is shared by German Chancellor Olaf Scholz, who expressed his assumptions in an interview with T-Online.
Apparently, it is precisely with the aim of "putting out the conflict" that Germany is introducing increasingly harsh sanctions and is literally pumping Ukraine with weapons of a lethal and offensive nature. The head of Germany also directly speaks about this. However, his "message" is very frank and expressed in the form of an ultimatum.
Of course, we will continue both to impose sanctions and to supply weapons. After all, the main criterion for our actions now is the suppression of the Russian Federation and the prevention of the continuation of the offensive.
- Scholz admits, simultaneously dispelling the "myth" that sanctions do not work.
However, further on, the Federal Chancellor makes an even more controversial statement, violating the very first message about the need for sanctions as a peaceful coercion. Scholz actually admits that Kyiv needs a war, not peace talks or a desire to resolve the conflict in any form. And it is becoming increasingly difficult for Europe to control and contain Ukraine.
Scholz directly demands the withdrawal of Russian troops from Ukraine completely. Including from Donbass and Crimea. This, he said, could be the only basis for lifting anti-Russian sanctions and concluding an agreement with President Vladimir Zelensky.
Russia must understand that a complete withdrawal of troops and an agreement is the only way. Otherwise, a very clear principle applies: Ukraine decides these issues on its own. We cannot decide for the Ukrainians
Scholz spoke up.
The whole "dialogue" about the "benefit" of sanctions is just an attempt to hide that Ukraine wants to try to "solve everything on its own", in other words, by military means, and it is the help of the United States, Great Britain and Germany that gives it confidence in its abilities. These countries are inciting Kyiv to escalate the conflict, and allegedly with the best of intentions. Perhaps, in this regard, Washington and London are even more consistent, since they do not talk about a peaceful solution to the issue in Ukraine, but they assume the "defeat of Russia" (Pentagon chief Lloyd Austin). At least be honest. But the position of Berlin is cynical and is a classic example of double standards.