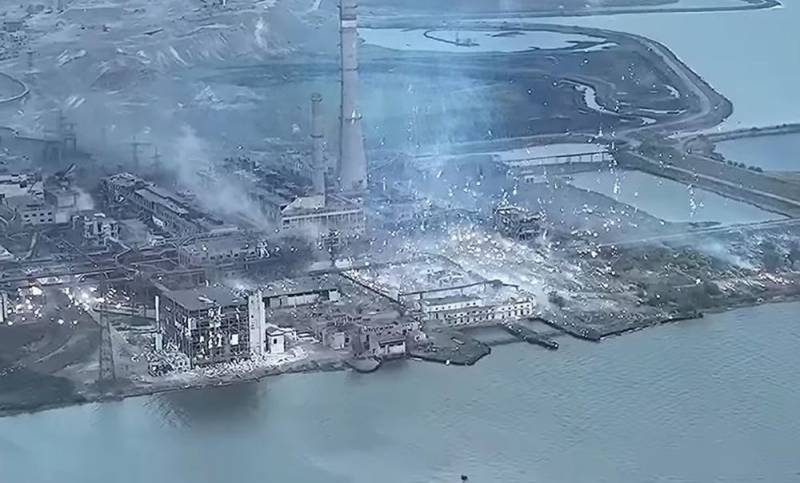 During the Russian special operation on Ukrainian territory, both the Ukrainian military and civilians were blocked at the Azovstal plant in Mariupol. On May 7, with the participation of the UN, the evacuation of civilians from the enterprise was completed, and only armed persons remained there, refusing to lay down their arms.
On May 15, a video appeared on the Web showing how the MLRS BM-21 "Grad" of 122-mm caliber works with rocket unguided incendiary projectiles MZ-21 (9M22S) at the positions of the Ukrainian military at Azovstal. Militants of the Nazi regiment "Azov" (an organization banned in Russia) of the NGU, the remnants of the 36th Marine Brigade, local policemen, border guards and nationalist territorial defense forces dug in there. In total, about 1 thousand "bayonets".
The blow of these reliable "lighters", developed in the USSR in the late 60s of the XX century, leaves an indelible impression - it looks like a fiery rain. MZ-21 are designed to create massive fires. The incendiary element is a shell of a hexagonal section made of magnesium alloy ML-5, in the blind socket of which a pyrotechnic composition is pressed.
In order for the accuracy of fire at intermediate distances (12-15 km) to be higher, rockets are supplied with large brake rings. Then burning incendiary elements are scattered over an area of ​​​​6400 m2 (this is a square of 80 m by 80 m). Each MZ-21 contains 180 incendiary elements. The use of such "lighters" saves a significant amount of high-explosive ammunition when the enemy is hiding behind various structures and terrain.