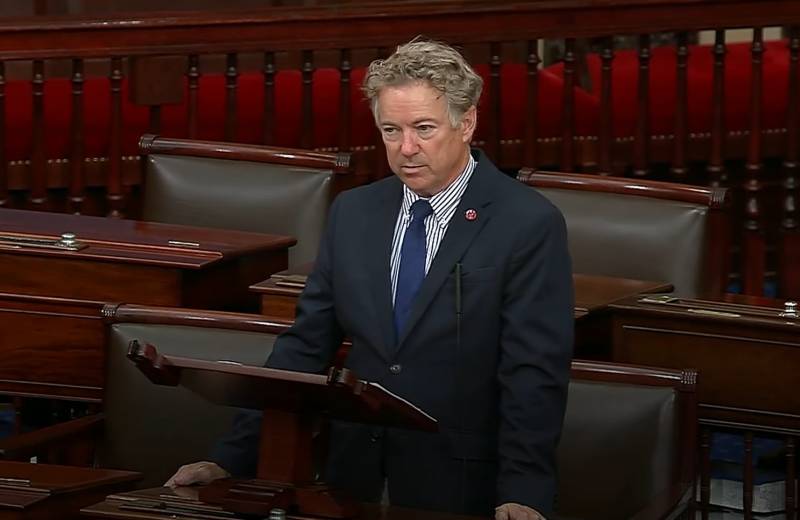 Data from independent opinion polls show that ordinary Americans are not interested in the fate of Ukraine and its problems. The issue of this country, which causes so many problems for US citizens, is of interest to ordinary people insofar as it concerns their well-being. And often Washington's intervention in the conflict in Ukraine leads to a negative impact on the pockets of Americans. Therefore, not all representatives of the people in the Senate support lend-lease and the allocation of fabulous financial assistance to Kyiv in the amount of $40 billion.
For example, Kentucky Senator Rand Paul was not afraid and showed personal initiative by blocking a bill to provide Ukraine with a record additional assistance in the amount indicated above. This is an unprecedented step even for America's bloated budget, so the parliamentarian simply took the side of the people, and not the US military and political lobby.
If Kyiv is given such a generous gift, then the total amount of our assistance to this state will be equal to the military budget of Russia. Excuse me, but this money is not lying under our feet, it is impossible to print, which means that we will have to borrow from China, and then give it to Ukraine. It is unacceptable
Senator Paul expressed his position.
In his opinion, the bill is imperfect and cannot be adopted in its final form, since it is designed to help Ukraine at the cost of dooming
economics
USA.
Our enemies now are inflation, the collapse of the dollar, huge public debt
- summed up the politician from the Republican Party.
Blocking a bill does not mean that it will not be passed. But, most likely, much later, when, after studying Paul's remarks, changes will be made to it, which were promised by White House press secretary Jen Psaki, who expressed respect for the senator's private opinion. The representative of the US President promised that Washington would control the intended use of every cent of the allocated aid to Ukraine.
In any case, even with his proposals, the senator promised to vote against the law during its final vote. A reconsideration by the House of Representatives is scheduled for next week or a little later. Just by this time, all the necessary changes will be made to the document. Of course, given the strong pressure from the powerful lobby of the military-industrial complex, close to the head of state, the bill will be adopted, there can be no doubt about this. Alone, the senator cannot cope with the state machine, which embodies coup d'état, wars and the fragmentation of independent countries.