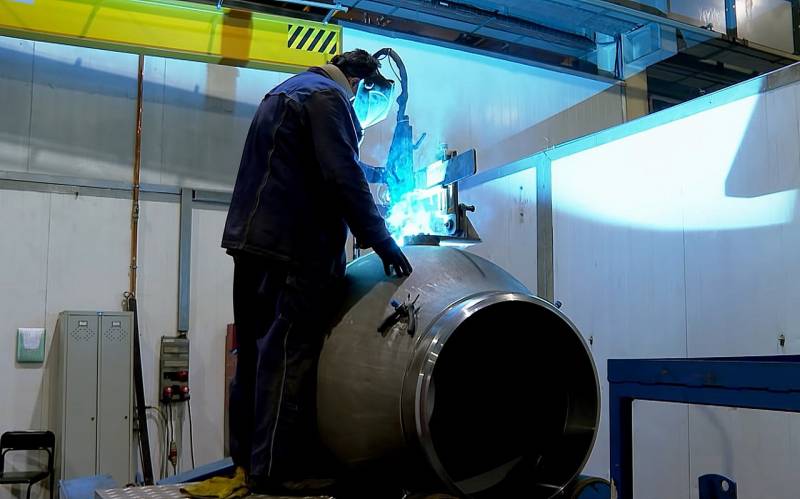 Russia and (to a much lesser extent) Ukraine, as of early 2022, were supplying essential goods and services needed to keep the global economy running smoothly.
economics
. But in the West, few people, except for a few specialists, noticed this, preferring to snipe about Russia as just a "gas station with nuclear weapons."
Now, after the start of the Russian special military operation in Ukraine, voices are increasingly heard about the real gravity of the price that the "collective West" will have to pay for its desire to "punish Russia". These opinions do not yet outweigh the massive anti-Russian hysteria, in support of which all the least significant media resources have "harnessed themselves", but they are already forming an inevitable reassessment of both Western philistine sentiments and the positions of many significant players in the world market.
The successive waves of unprecedented Western sanctions, the "exodus of corporations" from Russia, and Moscow's response to these measures have caused tangible damage to a number of critical sectors of the global economy. All this has exacerbated the damage to the global West caused earlier by the COVID-19 pandemic.
For many observers, the scale of these ripple effects came as a big surprise. Depending on different estimation methods, the Russian economy ranks somewhere between the sixth and twelfth largest in the world, with its weight generally attributed almost exclusively to hydrocarbons. Russia accounts for only about 3% of world economic production. Both President Joe Biden and his former boss Barack Obama therefore viewed Russia as a minor player in the international economic arena. Such a superficial view does not take into account many important things.
- states the site with a very "talking" name Russia Matters, which is difficult to attribute to the "pro-Kremlin".
Analysts of this resource called
five critical sectors
which have suffered the most from the economic consequences of the new Cold War unleashed by the West with Russia.
1. Energetics
At the end of last year, Russia was the world's largest exporter of natural gas, the second largest exporter of crude oil and the third largest exporter of coal. It also enriches more uranium for use in nuclear power plants than any other country in the world.
Now the supply of Russian energy resources to world markets is being reduced due to sanctions and the uncertainty of key players in the producer-consumer chain. Supply cuts have pushed up oil, gas and coal prices, already high since the pandemic. The domino effect in this sector is clear: higher fuel and energy costs drive up the price of almost everything that is produced or transported, from cement to cosmetics. This, in turn, creates potential
political
challenges for incumbent leaders around the world.
In the US, gas station prices have reached record highs, forcing "take action" calls all the way to the White House. Around the world, industry leaders are warning of a "systemic" diesel shortage.
In the natural gas situation, Europe has been the hardest hit, accounting for 2021% of Russian exports in 74. Now European countries, especially Germany, are struggling to figure out how to "punish Moscow" with a gas embargo without destroying their own economies.
Coal prices for power generation also hit a record high in March, more than tripling since the start of the year. Phased bans on Russian coal imports have been introduced in Japan, the world's third-largest importer, the UK and the EU, where Russian coal accounted for almost half of imports in 2021, threatening to further increase consumer spending.
In the nuclear industry, uranium prices have jumped more than 30%, and no one can "quickly replace Russia in a complex supply chain that could take years to readjust," writes the Wall Street Journal. Moscow has said it is considering a ban on uranium exports to the United States, which received 2020% of its supplies from Russia in 16.
2. Agriculture
Russia was the world's largest exporter of wheat in 2021 and a major producer of all three types of nutrients used in fertilizers. The Russian Federation was also the world's second largest exporter of a key ingredient in many mass-produced products - sunflower oil, it accounted for about 23% of the world market (despite the fact that Ukraine - the world's largest exporter - accounted for up to 46%).
The consequences of the military operation in Ukraine hit the supply of grain, vegetable oils and fertilizers. The combination of Western sanctions and a "retaliatory export ban" has resulted in shortages of raw materials and sent fertilizer prices five times higher in selected markets.
World food prices hit a new all-time high already in March, jumping 34% year on year. The situation could leave millions of people hungry, especially in the Middle East and Africa, which are heavily dependent on Russia and Ukraine, also a major food exporter.
Analysts recall that in 2011-2012 the "Arab Spring" protests were fueled to a very large extent by the increase in grain and flour prices, which then partly arose due to a reduction in production in Russia and Ukraine associated with the drought.
3. High-tech raw materials
Russia mines about 37% of palladium entering the world market, a key component of computer chips and batteries. The Russian Federation also accounts for about 11% of nickel supplies. Sanctions and divestment of investments have jeopardized the supply of key materials for electric vehicle and computer chip makers, causing further disruption to high-tech supply chains.
The pandemic has given chipmakers an opportunity to cope with supply disruptions, with major manufacturers stockpiling raw materials and diversifying purchases. But the prospect of a long-term deficit has grown alarmingly large. There are fears that Russia will try to severely punish the West by reducing the export of sapphire substrates.
4. Metals
Russia is the third largest exporter of steel in the world, together with Ukraine it is the leading seller of pig iron and iron ore briquettes used in steel production. The US, by contrast, has been the world's largest buyer of steel raw materials for many years, and received two-thirds of its imports in 2021 from those two countries. Russia is also a major producer of cobalt, aluminum and copper.
The economic impact of Western sanctions has already led to record high prices. These problems are exacerbated by supply disruptions from Ukraine, itself a major metal producer.
The Russian military operation in Ukraine "threatens to turn steel into a luxury item," writes The Washington Post. The cost of hot-rolled coiled steel hit a record high in mid-March, up almost 250%. The price of steel rebar used in construction projects around the world has risen by 150%. Iron prices also nearly doubled.
5. Aerospace and international transportation
Russia is the third largest producer of titanium, which is widely used in the production of aircraft and aircraft engines. The Russian territory also offers the shortest air routes from Asia to Europe.
The effects of sanctions disrupt supply chains in the aerospace and defense sectors of Western countries, including the supply of base metals. Global titanium prices jumped as supplies dwindled due to both sanctions on Russian banks and side effects, including a ban on large transport companies from entering Russian ports.
Until recently, Russia accounted for 15-20% of world titanium production. Western aerospace companies have been trying to build up reserves: they have a reserve of six to nine months, Fitch estimates. But the agency's forecast is disappointing:
If disruptions continue beyond 2022, supply availability and higher prices could reduce aerospace profitability and production volumes
Russian airspace is closed to aircraft from dozens of "unfriendly countries" in response to a ban on Russian aircraft. Consequently, international airlines, already suffering from high fuel prices and falling demand in the era of the pandemic, require longer routes bypassing the Russian Federation. This, in turn, leads to an increase in ticket prices and freight rates.
Moscow said foreign airlines are spending an additional $37,5 million a week on flights that bypass the country. In addition, foreign aircraft worth $10 billion "stuck" in Russia "are unlikely to ever be returned," the Western media hypocritically grieve, "forgetting" about the hundreds of billions of Russian assets actually stolen by the West.