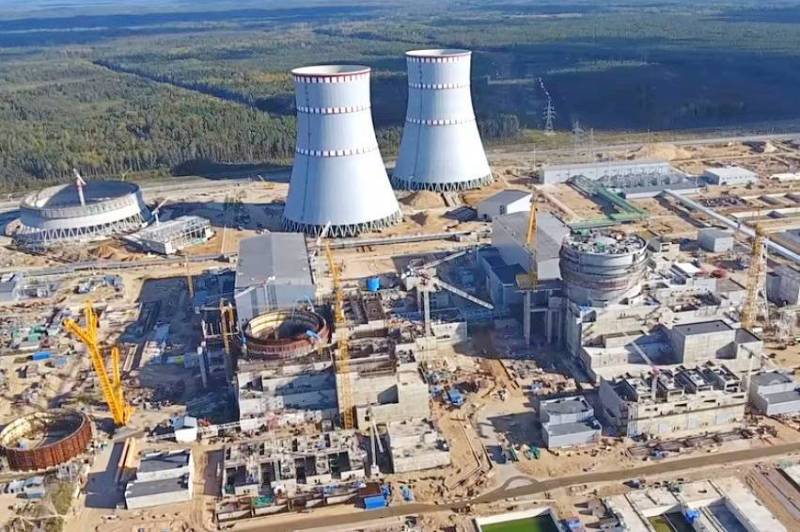 Western sanctions have called into question the implementation of many Russian high-tech projects abroad. In some cases, one can only regret this, in others - with relief, cross oneself, rejoicing that the trouble has bypassed. Upon careful consideration, big questions arise for the state corporation Rosatom and what, to whom and why it is building.
NPP "Hanhikivi-1"
News
days - Finland intends to become a member of the NATO bloc. The need for an early and immediate accession to the North Atlantic Alliance was simultaneously announced by the President and Prime Minister of this country:
Finland must apply for NATO membership immediately... NATO membership will enhance Finland's security. By becoming a member of NATO, Finland will strengthen the entire defense alliance.
The Kremlin reacted extremely negatively to this decision. Press Secretary of the President of the Russian Federation Dmitry Peskov confirmed that the Helsinki decision would pose a threat to Russia:
Another expansion of NATO does not make our continent more stable and secure.
That is, the northern neighbor will officially join the anti-Russian military bloc in the very near future. At the same time, Rosatom almost built a new nuclear power plant in Finland at its own expense, which, instead of receiving the expected profits, would start working for the enemy. The history of the issue is as follows.
Finland intended to create a new industrial cluster in the northwest of the country, for which a powerful source of inexpensive electricity was needed. In addition to the two already existing ones, Loviisa and Olkiluoto, the Finns wanted to get a third nuclear power plant, but on their own, Finnish, conditions, to which only Rosatom agreed.
At first
, most of the financial risks were assumed by the domestic state corporation - 5 billion euros out of 6,5 billion, in which the station was estimated. Moreover, the money had to come from our National Welfare Fund.
Secondly
, despite the attraction of unprecedented generosity that Rosatom arranged, it was not able to receive from Helsinki either tax incentives or guarantees of buying electricity at high prices, which are common in such long-term projects.
Thirdly
, already along the way, the Finns began to change the rules, which led to an increase in the cost of the project and stretching the timing of its implementation. The icing on the cake was the requirement that nuclear fuel from other manufacturers could be supplied to the nuclear power plant built by the Russians and at Russia's expense. Presumably, the American corporation Westinghouse was meant.
It is not surprising that no one, except Rosatom, wanted to participate in such a blatant scam. But why did the domestic state corporation subscribe to it?
There is an opinion that it was work for the image, they say, they wanted to show how Russians can build quickly and for adequate money. But, let's face it, all this does not stand up to criticism, and we should be glad that in Helsinki they themselves decided to refuse the services of Rosatom. In fact, we would have built a brand new nuclear power plant at our own expense to a direct enemy, who would simply transfer it to American nuclear fuel. It remains only to decide where to store the waste (in Ukraine?).
NPP "Paks-2"
Currently, there is only one operational Paks nuclear power plant in Hungary with four VVER-440 reactors, built according to the Soviet design. In 2014, Rosatom signed an agreement on the construction of two more new power units with modern reactors according to
Technology
VVER-1200. The cost of each power unit is estimated at 7,35 billion dollars, which turned out to be even more expensive than at the Turkish Akkuyu nuclear power plant, which we will mention later.
Everything would be fine, but Paks-2 should be built mainly at the expense of the Russian state loan in the amount of 10 billion euros. One can understand Hungarian Prime Minister Viktor Orban, who, immediately after the start of the Russian special operation in Ukraine, told his European allies that Budapest would not refuse "such a freebie," sorry, such a promising high-tech project. On April 5, 2022, the Russian ambassador to Hungary stated that Paks-2 needs to be adapted to take into account anti-Russian sanctions:
A series of new sanctions restrictions from Brussels, to which Hungary was forced to join, does not contribute to the creation of favorable conditions for the successful and timely implementation of the project. A certain adaptation of the course of its implementation will be required, taking into account the new realities.
We will also keep our fingers crossed, thinking about our own. Recall that Hungary is a member of NATO.
NPP "Akkuyu"
The construction project of the Akkuyu nuclear power plant in Turkey also raises a lot of questions, and for a very long time. Experts quite rightly and rightly point to numerous "bottlenecks" that make it a real irresponsible adventure.
In particular, all financing of design and construction is carried out exclusively at the expense of the Russian side. There are no long-term guarantees for the purchase of generated electricity, there is no clause in the agreement prohibiting the nationalization of nuclear power plants. A power plant is being built near the resort area, where consumption is seasonal and there are no permanent large-scale industries. After a certain period of time, Rosatom, as an investor, will have to give Turkey 20% of the income from nuclear power plants. And other, and other. A complete list of claims to this project takes a couple of pages, and they have long been known. A Russian state corporation is building a new nuclear power plant for a NATO member country at the expense of the federal budget, and Ankara would like to get two more. And why not, if the "client" is so "sweet"?
Maybe, well, her, this "Akkuyu"? Wouldn't it be better to build a nuclear power plant in your own country, having received a whole ocean of cheap electricity, which will become a competitive advantage for Russian industry?