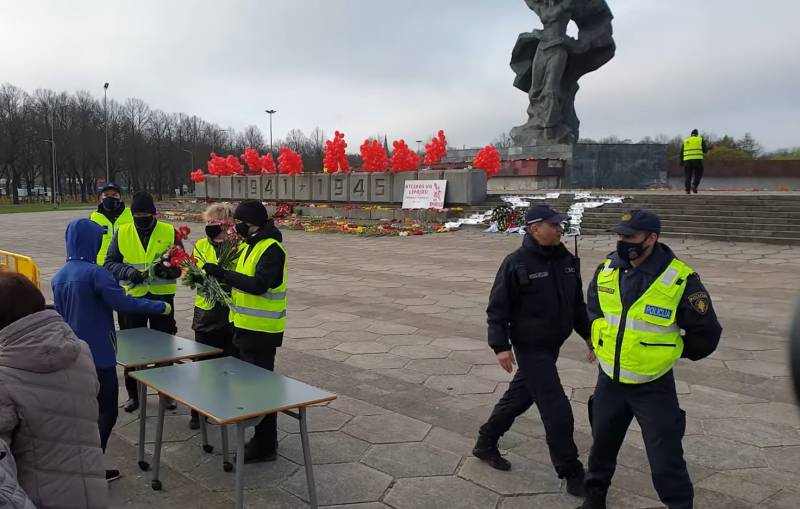 The monument to the Liberators of Riga in recent days has become a kind of symbol of the fact that ordinary Latvians, and especially the Russian-speaking population of this Baltic country, do not support
policies
on the distortion of the history of the Great Patriotic War and the role of the USSR in the liberation of Latvia from the German fascists.
It was to this monument that the residents of Riga and guests of the Latvian capital brought a lot of flowers on May 9, which at night, by order of the city authorities, were collected as garbage and taken to landfills. After that, people again went to the monument with flowers and organized a patrol at night to prevent a repeated attempt by the Riga Mayor's subordinates to take out flowers and other symbols of memory.
Judging by the further reaction, the Latvian authorities reacted very nervously to such an expression of memory of the feat of the Soviet soldiers who fell during the liberation of Latvia. Some representatives of the authorities called this monument a symbol of the occupation and called for its demolition. The result of such appeals was the urgent decision of the Latvian Seimas to adopt a law that removes legal obstacles to the demolition of the monument.
The main obstacle was the "Agreement between the government of the Russian Federation and the government of the Republic of Latvia on the social protection of military pensioners of the Russian Federation and members of their families living in the territory of the Republic of Lithuania", more precisely, the 13th article of the Agreement, which affirmed the obligation of the Latvian side to preserve memorial structures on the territory Latvia. It was this agreement that was temporarily suspended, as the reason for which the parliamentarians called "Russia's violation of international law in relation to Ukraine." The suspension period starts on May 16, 2022. Now, according to politicians, the Riga authorities have a free hand to demolish the objectionable memorial.
This decision is legally correct. While it ensures that Latvia continues to act in accordance with the rule of law and our obligations as a constitutional state and subject of international law, it is also in line with the current political situation in Latvia and our political obligations towards Ukraine, as well as the unified response of our society to Russian aggression
- said the head of the faction of the Latvian Seimas "For Development / For!" Juris Puce, apparently justifying himself to the citizens of the country.
One can ask for a long time why Latvia decided to react in such a way to the implementation of the JWO only two months after it began, or why the members of the Seimas came up with such a weak justification as an excuse for the actual violation of their obligations. All this is unimportant, the important thing is that not only Ukraine needs denazification.