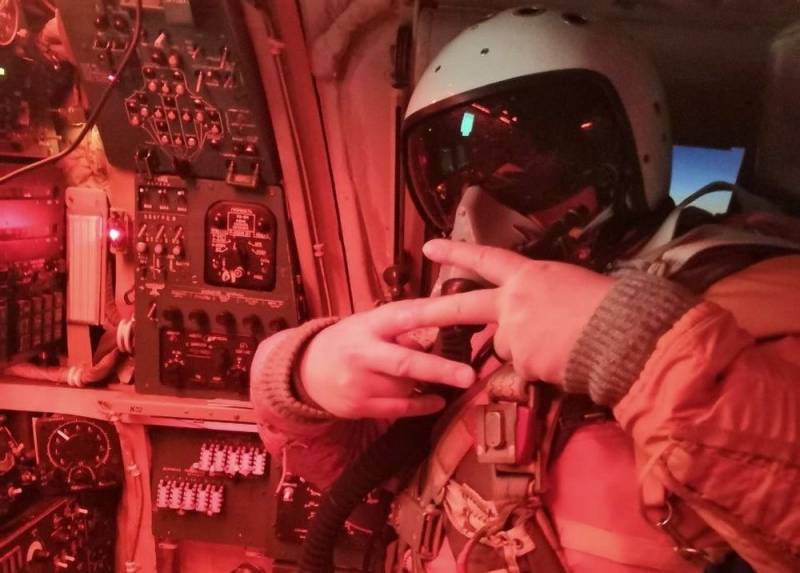 Footage of a night launch of unknown missiles by a Tu22M3 long-range supersonic bomber has appeared on the Web. The published video shows the work of one of the boards of the Russian Aerospace Forces on targets in Ukraine during the Russian special operation.
It should be noted that, most likely, we have before us a documented launch of two Soviet long-range supersonic air-launched cruise missiles of the Kh-22 family or the latest Russian Kh-32 of a similar air-to-surface class.
Death to the Nazis
- said the pilot, watching the receding deadly ammunition.
Kh-22 missiles (have many modifications) and Kh-32 are regular ammunition for the Tu-22M3. There are about 1000 Kh-22s and an unknown number of Kh-32s in Russian arsenals.
The flight range of the Kh-22 is up to 600 km, and the speed is Mach 3,5-4,6 (from 4000 to 5400 km/h). A conventional warhead (high-explosive-cumulative) weighs 960 kg, and a special one can be equipped with a thermonuclear warhead with a capacity of 350 Kt - 1 Mt.
The Kh-32 missile is a deep modernization of the Kh-22, which was put into service in 2016. It has an improved guidance system and engine. It is made in the X-22 body, but its flight range reaches 1000 km.
Tu-22M3 can carry 3 (in overload) of these missiles (the middle missile is semi-recessed into the fuselage). But the normal combat load is 2 rockets or bombs in the cargo compartment weighing up to 12 tons.
As for the possibility of using hypersonic Kinzhal missiles, this issue is still in the theoretical plane and has not passed into the stage of practical implementation. Judging by the recording, these are definitely not "Daggers", since they fly at a much higher speed. The Tu-22M3 will someday be armed with such ammunition, there is no doubt about it. But so far, the Russian Ministry of Defense has not informed the public about this, no doubt, a landmark event.