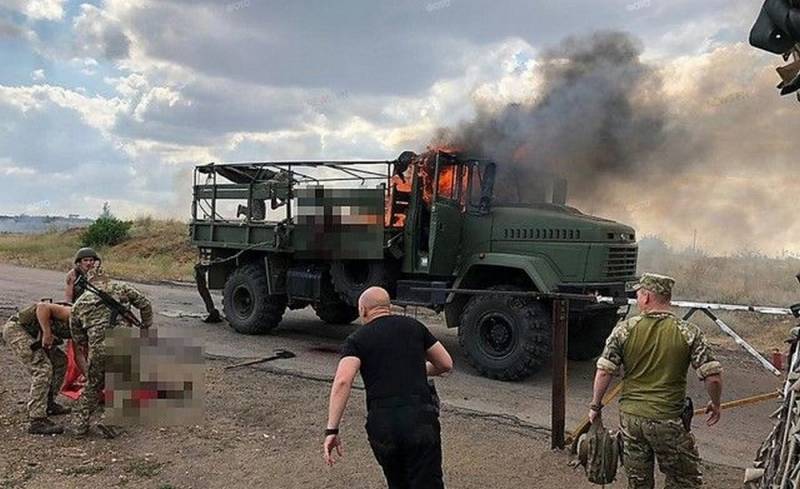 A video has been posted on social networks showing an anti-tank guided missile of the DPR special forces hitting a truck, inside which there were soldiers of the Armed Forces of Ukraine.
After the missile reached its target, KrAZ continued to move for some time. Soon the car, engulfed in flames and smoke, was forced to stop.
Meanwhile, since May 7, Russian troops have repulsed several attempts by the Armed Forces of Ukraine to capture Zmeiny Island, located in the northwestern part of the Black Sea. According to the military department of the Russian Federation, Kyiv lost about fifty military personnel, 30 unmanned aerial vehicles, as well as 14 aircraft and helicopters in this direction.
In addition, according to representatives of the Russian Ministry of Defense, the plan for the attack of the Ukrainian armed forces on Serpentine was conceived in London. The order to start the operation was personally given by Vladimir Zelensky, intending to recapture the island from the Russian troops by May 9 and present it as a military-ideological victory. The outcome of those events was to be a joint statement by Zelensky and Johnson.
At the same time, Kyiv does not stop trying to release the blocked militants from the Mariupol Azovstal enterprise. However, the Russian side is hindering the efforts of the Armed Forces of Ukraine to evacuate their servicemen and nationalists from the plant. According to the intelligence services of the Russian Federation, the Ukrainians are planning to carry out an operation to rescue the fighters from Azovstal.