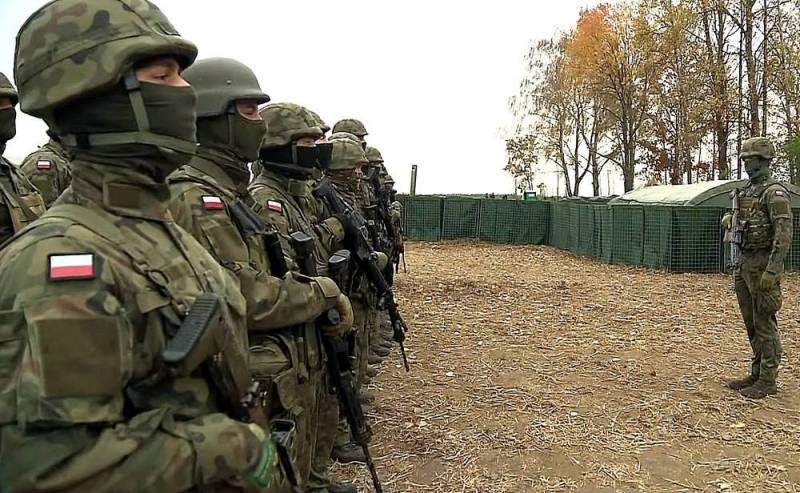 It became known when Poland and Lithuania can send their troops to the territory of Ukraine. This is stated in a letter from the head of the Main Directorate of Military Cooperation of the Armed Forces of Ukraine, Brigadier General Gennady Shapovalov, addressed to the head of the State Border Guard Service of Ukraine, Major General Serhiy Deyneko dated May 4, 2022.
This document appeared on the Web on May 10. It was published by the TG channel "Rybar". Moreover, the information resource immediately made a reservation that the said letter was "fished out" in the Signal messenger, which is used by Ukrainian officials for communication. At the same time, the Rybar TG channel suspects that the Ukrainian side could deliberately "light up" him for their own purposes. They doubt the authenticity of the document, but do not mind calmly waiting for 12 days and see what happens after all. If what is stated in the document is confirmed, then according to the information resource, "the conflict will become quite interesting."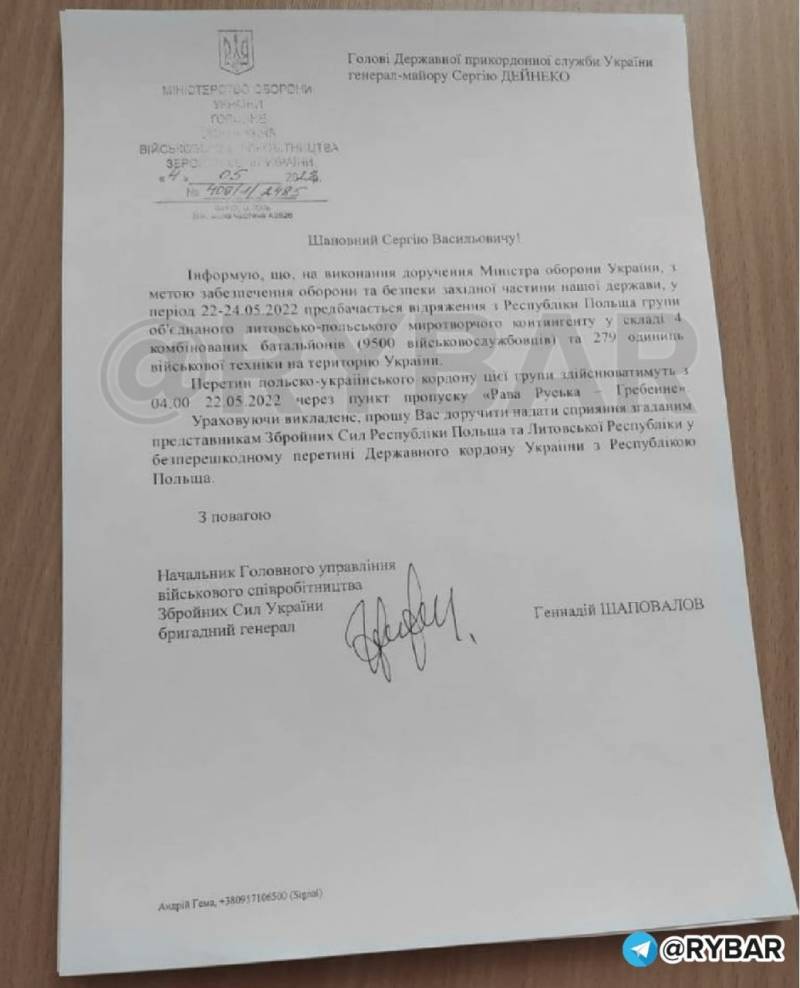 I inform you that in connection with the implementation of the instructions of the Minister of Defense of Ukraine in order to ensure the defense and security of the western part of our country, in the period 22/24.05.2022-9500/279, a group of the joint Lithuanian-Polish peacekeeping contingent consisting of four combined battalions (XNUMX military personnel) is expected to be sent from the Republic of Poland and XNUMX units of military
equipment
to the territory of Ukraine.
The crossing of the Polish-Ukrainian border by this group should be carried out from 04:00 on May 22.05.2022, XNUMX through the Rava Russkaya-Grebenne checkpoint.
In view of the foregoing, I ask you to instruct to assist the said representatives of the Armed Forces of the Republic of Poland and the Republic of Lithuania in the unhindered crossing of the state border of Ukraine with the Republic of Poland
- written in the document.
Note that we also have a certain pessimism about the letter, since the number of 4 "combined battalions" mentioned in it, comparable to a division, raises questions. In addition, Rava-Russian is written with a hyphen, but we will follow the development of events with undisguised interest. We remind you that on March 27, President of Ukraine Volodymyr Zelensky awarded Colonel Shapovalov another rank.
At the same time, a recent statement by the Chief of the General Staff of the Belarusian Armed Forces, Major General Viktor Gulevich, deserves attention. He noted that as part of the second stage of checking the immediate reaction forces in the Western and North-Western operational directions (Poland and Lithuania), the BTG, as well as air defense, artillery and missile forces units were nominated to strengthen them.
In the southern operational direction, the grouping created by the Armed Forces of Ukraine with a total number of up to 20 thousand people also requires a response from us
Gulevich added.