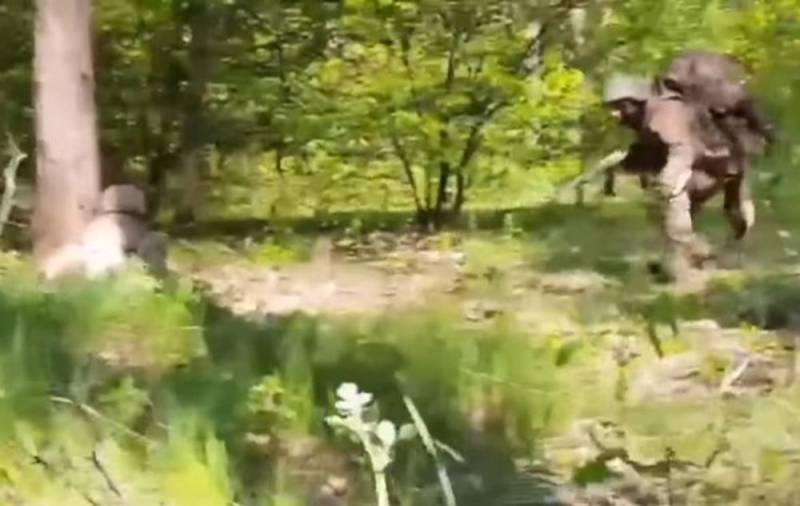 In the process of conducting a special operation of the RF Armed Forces in Ukraine, documentary evidence from the scene periodically appears on the Web. This time, a Russian special forces fighter from the "O" group filmed a real battle in the Donbass with an enemy in the forest.
The video footage showed a stage when a group of special forces ensured a breakthrough of the main forces in this direction. It is shown how, on the outskirts of Severodonetsk, she tracked down a moving detachment in the rear of the Armed Forces of Ukraine. During the clash, the enemy detachment was destroyed.
But commandos with "O" symbols on their sleeves not only participate in hostilities, they also communicate with local residents in territories taken under the control of Russian troops. For example, on May 9, they handed out St. George ribbons in the city of Svatovo in the Luhansk region (LPR) when they were on vacation in their rear. Svatovo is an important transport hub, from which an offensive is launched in a southerly direction.
At the same time, a little earlier, the special forces were
sent
along with motorized riflemen to help an ambushed unit. They fought a fierce battle near one of the villages on the outskirts of the city of Liman in the Donetsk region (DPR). This clash also ended successfully for the Russian military. We remind you that the SVO began on February 24 after almost 8 years of incessant shelling by the Ukrainian military of the territories of the DPR and LPR that remained at that time.