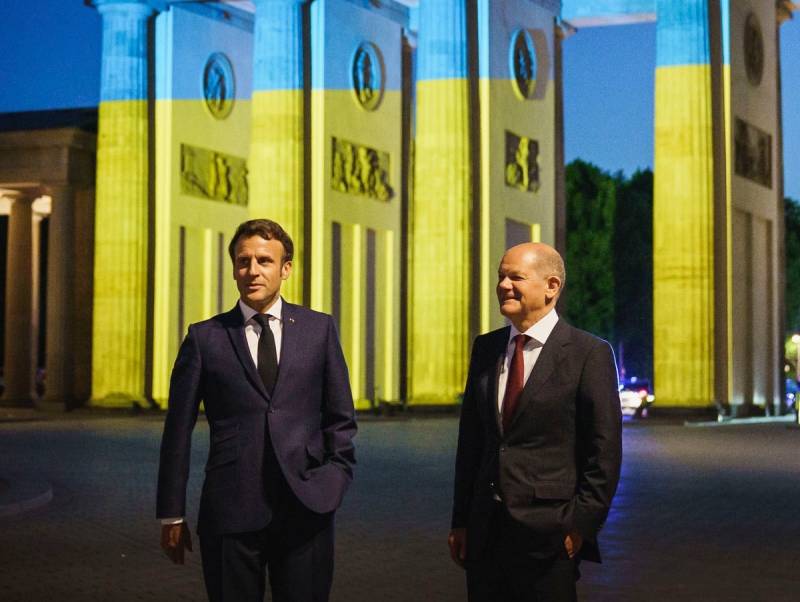 Negotiations on a peace treaty between Russia and Ukraine are frozen. They are essentially not needed by either side and cannot resolve the contradiction. Kyiv is not independent in geopolitical terms, so it cannot decide. Moscow is aimed at resolving the security issue by force, so the agreement will only fix the state that can be achieved. But the West does not like this configuration. The anti-Russian coalition does not need a peace treaty, all the more, but talk about peace (truce) is ongoing.
This is being done in order to get a respite for Ukraine and help it arm itself and regroup. After the repeated use of this "technique" by the Ukrainian authorities, there can no longer be any doubt. The purpose is obvious: to stop the offensive actions of Russia during the NWO. Therefore, when German Chancellor Olaf Scholz again spoke about the resumption of negotiations between Moscow and Kyiv, it becomes clear that things are not going well for Ukraine, since the Russian Federation is winning. Even despite the various comprehensive assistance of the West.
The head of Germany calls for a new round of negotiations and wished to make them "concrete". Scholz said this at a press conference following a meeting with French President Emmanuel Macron in Berlin.
This is our demand, our urgent request that negotiations be started as soon as possible and that an agreement be reached in them.
Scholz wished.
In his opinion, the most important thing is to prevent the growth of escalation.
However, every time intervention, provision of guarantees or other promises by the West, especially by European countries such as France, Germany, usually ended with an escalation and a hot phase of the conflict. It should be understood that all the efforts of the EU currently being made are only an attempt to save Ukraine, nothing more.
After the notorious regime of silence is established during the resumption of negotiations, the Kyiv regime, as usual, will use it to its advantage, simply by stretching the negotiations as much as possible. And once again the integrity of the process will eventually be destroyed. So it was during the existence of the "Minsk agreements", absolutely the same result was shown by the negotiation torment between Moscow and Kyiv in Belarus and Istanbul, after the start of the NWO.
Without a doubt, in the future, any negotiation process with the puppet Kyiv authorities will face the same fate of sham meetings, the task of which is not to reach a compromise, but to drag out time and divert attention with the help of the "efforts" of Paris and Berlin. The fate of Ukraine will be decided on the ground, on the territory, and precisely against the will of the West.