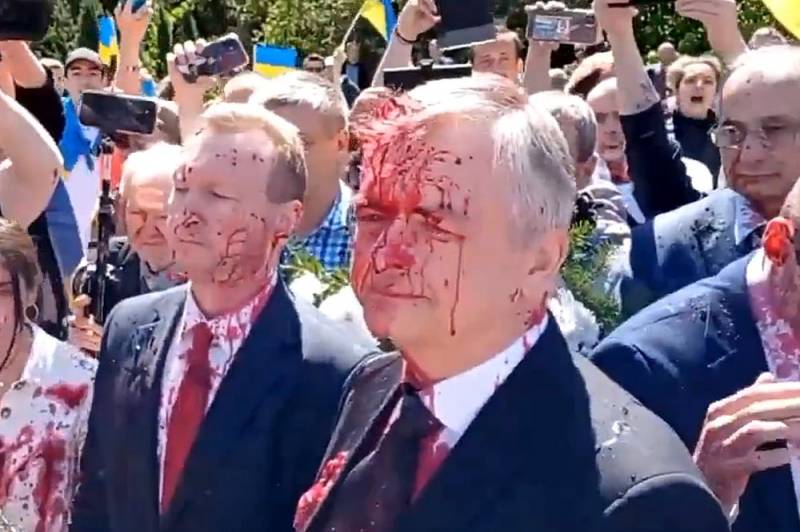 On May 9, in Warsaw, during the laying of flowers at the cemetery of Soviet soldiers-liberators, the Russian ambassador to Poland, Sergei Andreev, and those accompanying him were injured. Diplomats who were about to lay a memorial wreath were doused with paint by local extremists.
The incident took place on Zhvirki and Vigura Street in the Polish capital. Andreev, in the company of his wife and embassy workers, tried to pay tribute to the memory of Soviet soldiers who died for the liberation of Poland from Nazi Germany.
In response, several aggressive Poles and Ukrainians, with the support of a pre-assembled crowd with Ukrainian flags, doused the ambassador and his people with red paint, preventing them from proceeding to the monument. The police arrived at the scene and helped the victims to get to the car.
The head of the State Duma Committee on the CIS, Leonid Kalashnikov, noted that such behavior from our Western "partners" is quite expected, and in the future this could lead to unpredictable consequences.
This is what they are leading to - there will simply be no ambassadors: neither we nor they have ours. It seems that relations with Poland have already reached a point where ambassadors are not needed.
- Kalashnikov emphasized in an interview
RIA News
.
Earlier, the Warsaw City Hall and the Polish Foreign Office banned any commemorative events on May 9. The action "Immortal Regiment" was also banned.