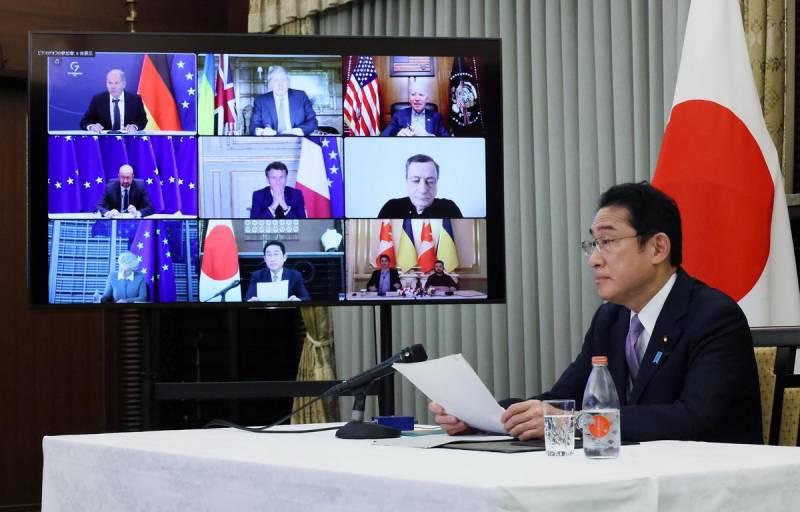 Japan supports the global initiative to impose an energy embargo against Russia. However, according to the Prime Minister of this state, Fumio Kishida, it may take a long time to introduce a ban on the import of oil and gas from the Russian Federation. This will be a step by step process. This was stated by the head of Japan, joining the leaders of the Big Seven. He is quoted by Bloomberg.
According to Kishida, opinion polls show that the Japanese public approves of sanctions against Russia because of the special operation in Ukraine. However, the state has its own "opinion" and line of conduct regarding the import of hydrocarbons from Russia. Strong dependence on the supply of raw materials imposes certain difficulties on the process of moving away from gas, oil, and coal.
Premier Kishida also confirmed that the presence of Japanese companies in the Sakhalin LNG projects of the first and second stages remains and is beyond doubt.
During a teleconference with other G7 leaders, which was attended by Ukrainian President Volodymyr Zelensky, the Japanese leader said his government had decided to ban Russian oil imports "in principle," in full compliance with the Foreign Ministry's statement. Consent to this is "fundamentally". But in fact, as we see, there is no threat of an embargo on Russian energy carriers, especially soon.
This is an extremely difficult decision for a country that imports most of its energy, but now is the time when G7 unity matters most.
Kishida said.
In any case, the cessation of imports from Russia is likely to be limited, since in March Japan already significantly reduced the rate of imports of all types of fuel. This led to a sharp increase in gasoline prices, which caused inflationary shifts. It is very likely that Tokyo will not allow more such experiments.
However, what can we say about oil and gas, if Japan has already announced plans to phase out the import of Russian coal, and also without specifying the timing. In other words, the Land of the Rising Sun only pretends to be in solidarity with the West in anti-Russian hysteria, but in reality, under any pretext, it tries to stay with gas, oil and coal.
Moreover, such a commitment to maintain imports from Russia is demonstrated against the background of not the highest indicators of deliveries from the Russian Federation. In terms of oil and gas for Japan, Russian hydrocarbons are almost twice as "losing" to the volumes coming from Saudi Arabia and the United Emirates. But Tokyo still does not want to give up the Russian supply channel.