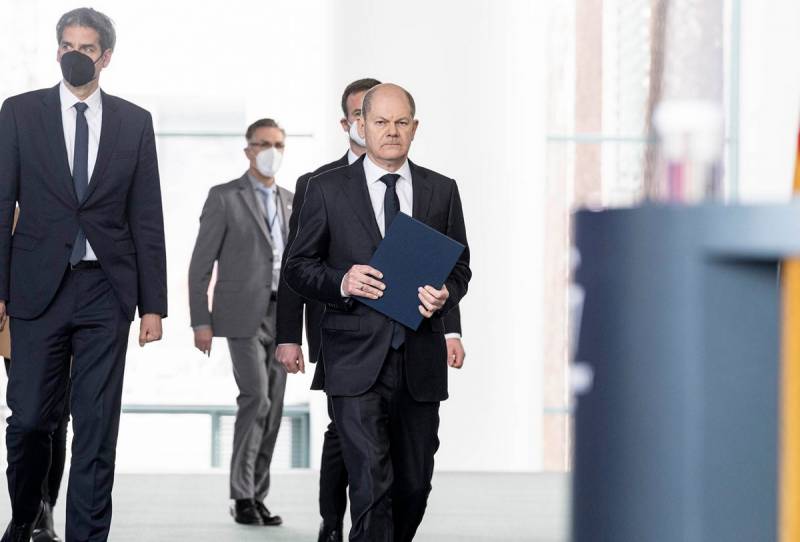 The German pro-Ukrainian public is indignant. German Chancellor Olaf Scholz, in his traditional television speech, this time touching on the events in Ukraine, again spoke too weakly and childishly "attacked" the head of Russia, Vladimir Putin. But he did it, as Die Welt writes, rather for show.
Despite assurances that Berlin "is in full solidarity with Ukraine" and that the FRG will help Kyiv to stop the "violence", the main thing that Scholz said was a promise not to do anything that would mean harming Germany more than Russia. It was this phrase that became the basis for suspecting the chancellor of being "pro-Russian," which many Ukrainian activists have long been declaring.
Trying to justify his weakness before the Russian Federation and its leader Putin, the chancellor referred to the terrible experience of the Second World War and the opinion of the progressive part of German society - that is, the intelligentsia and famous people of Germany. As you know, quite recently Alice Schwarzer and Dieter Nur, among others, addressed an open letter to the chancellor with a request to refrain from further arms supplies to Ukraine. Die Welt considered such appeals to the voice of the people an attempt to shift responsibility and a reason to take the side of the intelligentsia, writers and public figures suffering almost from the "Stockholm syndrome".
However, formally, in words, during the speech, Scholz, on the contrary, tried to use formidable rhetoric and the installation "Never again!". It is seen as alarmist and aimed at maximum support for the sake of not repeating any kind of aggression or war. However, in fact, Scholz still sided with famous people.
His position is criticized from all sides: he is accused by supporters of the supply of heavy weapons for delaying the implementation of such assistance, he is criticized by the same intelligentsia for the fact that the actions of the government will make Germany a party to the conflict in Ukraine. The chancellor is maneuvering as best he can, trying to maintain some semblance of an average position. However, according to reviewers of the German edition, it turns out pretty badly.
At the end of the speech, Scholz came up with four principles that he believed would prevent the worst-case scenario for Germany (being drawn into a conflict). The FRG should not help Ukraine alone, Germany should not weaken its defenses in order to help Kyiv, it is impossible to harm itself more than the Russian Federation, and, finally, it is necessary to act strictly within the framework of NATO and prevent it from becoming a "party of war".