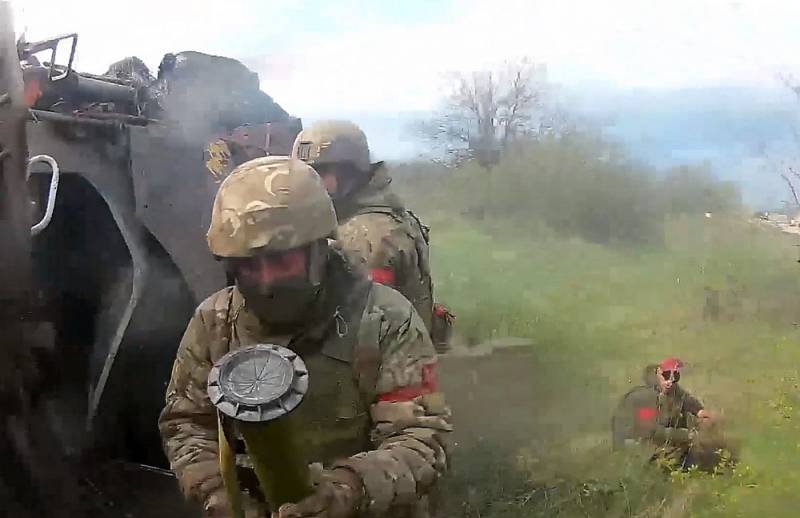 In the course of the Russian special operation on Ukrainian territory, real evidence from the scene periodically appears on the Web. This time, the video recorded and then made public a fierce battle between servicemen of the Russian Armed Forces with "O" symbols in the Donbass.
Events developed as follows. One of the units of the RF Armed Forces, together with the fighters of the NM of the LPR and the DPR, attacked the city of Liman (formerly Krasny Liman), a major railway junction in the Kramatorsk district of the Donetsk region. The Ukrainian Armed Forces attacked them from an empty village, after which a combined group of special forces and motorized riflemen was promptly sent to help them.
Arriving special forces and motorized riflemen opened heavy fire on the enemy from RPGs, BTR-82A cannons and machine guns. During the clash, they suppressed the firing points of the Armed Forces of Ukraine. The surviving Ukrainian security forces decided to retreat. After that, the consolidated group left to replenish ammunition and wait for the next call, and the remaining fighters carried out a sweep of this settlement and began to move towards the intended goal.
It should be added that before that, this "flying detachment" captured one of the fortified strongholds of the Armed Forces of Ukraine, and in a clash in a forest destroyed a large group of enemy servicemen. Earlier we
Reported
how many trophies in the Donbas have already been won by the MTR of the RF Armed Forces with the identification mark "O" on the chevrons.