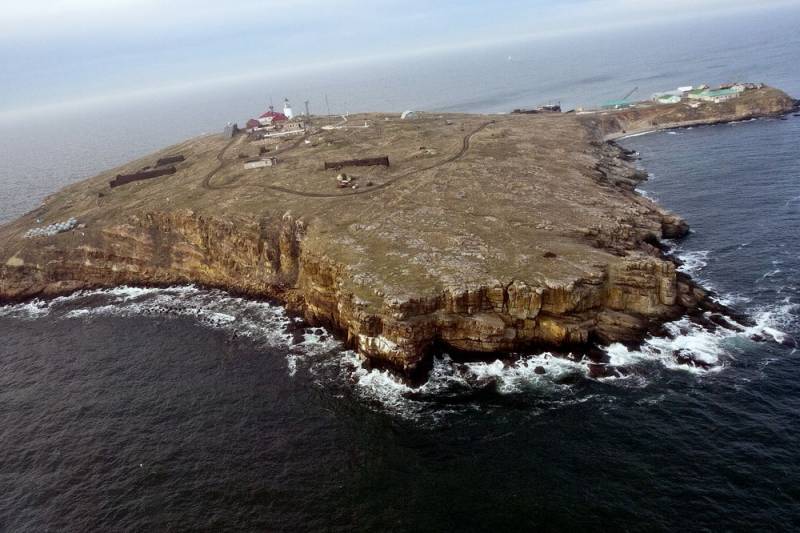 On the evening of May 7, the Russian Ministry of Defense provided a summary for the past day, in which
said
about the course of the Russian special operation on Ukrainian territory and some details of the operational situation near Serpent's Island in the Black Sea were reported. According to the military department, on that day, on approaching the island, the Russian Armed Forces shot down Su-24, Su-27, 3 Mi-8 units and 2 Bayraktar-TB2 units of the Ukrainian Air Force, and also sank the armored landing assault boat Stanislav » Navy APU.
This indicates that the Armed Forces of Ukraine tried to attack the RF Armed Forces on this piece of land and land air and sea assault forces to take control. Moreover, this is not the first time the Ukrainian military has shown interest in Serpent Island.
According to the analysis, confirmed by the information of the Ministry of Defense of the Russian Federation for May 2-8, the total losses of the Armed Forces of Ukraine near Zmeiny Island amounted to 16 aircraft and 2 watercraft, and this is not counting the personnel. The list of destroyed weapons includes: 4 Su-24 bombers, 1 Su-27 fighter, 8 Bayraktar-TB2 drones, 1 Mi-24 helicopter, 3 Mi-8 helicopters (with landing troops), 1 BDSHK project 58181 "Centaur" (with a landing force) and the naval guard ship "Grigory Kuropyatnikov" (BG 50) of project 1241.2 (code "Lightning").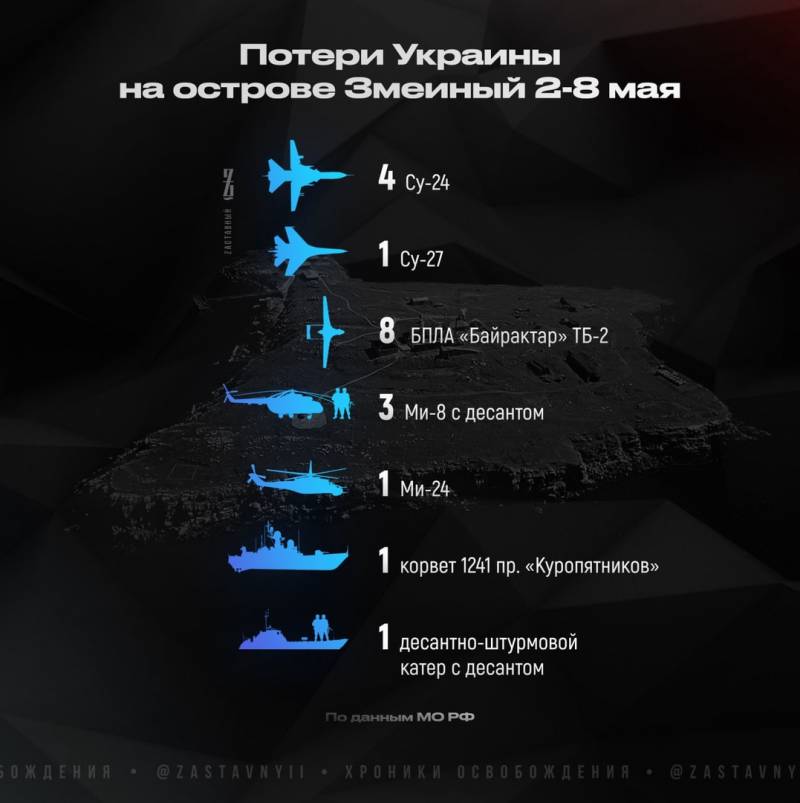 Please note that some media write about Grigory Kuropyatnikov as a corvette, but this is debatable, since it is a large boat, not even a small ship by modern standards. According to Soviet terminology, this is a boat, since in the USSR the class of corvettes was not distinguished, they corresponded to the subclass of anti-submarine ships - patrol ships of the near sea zone (frigates are the far sea zone). However, according to the NATO classification, Soviet (Russian) small anti-submarine ships and small missile ships, including project 1241/1241.1 missile boats, are classified as corvettes.
At the same time, no one in Russia calls the small missile ships of Project 21631 Buyan-M corvettes, although their standard displacement is 850 tons, and the total displacement is 949 tons, and NATO considers them corvettes. Moreover, the standard displacement of Grigory Kuropyatnikov is only 399 tons, and the total displacement is 455 tons. It is part of a series of Soviet boats, some of which were missile (1241.1), and some were anti-submarine (1241.2) in the Soviet Navy. A total of 80 different modifications were built. In the Ukrainian Navy, "Grigory Kuropyatnikov" was made a "border guard". Given the above, "Grigory Kuropyatnikov" can either be considered a corvette, or not, depending on the terminology used.
We remind you that the only frigate of the Ukrainian fleet "Hetman Sahaydachny", the pride and flagship of the Ukrainian Navy, was sunk at the end of February in Nikolaev, at the very beginning of the NWO.