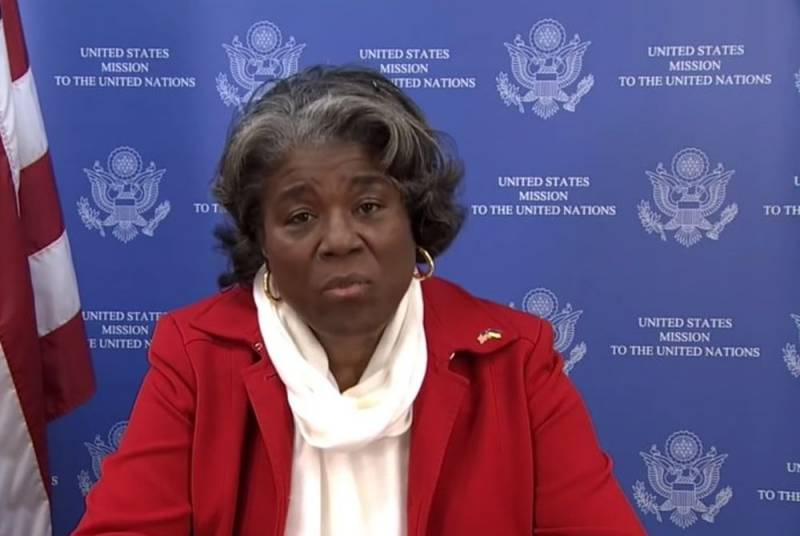 Ukraine continues to harass international structures and its allies with requests to revise Russia's status in the United Nations because of a special operation carried out by Russian troops on Ukrainian territory. Washington reacted to the activities of Kyiv and gave an exhaustive answer.
The US authorities do not see any possibility to deprive the Russian Federation of the status of a permanent member of the UN Security Council with the right of veto. Linda Thomas-Greenfield, 6st US Ambassador to the UN, told about this on May 31 in an interview with the American non-commercial television broadcasting service Public Broadcasting Service (PBS).
She confirmed that she was aware of the request from Kyiv on this matter, but it is impossible to fulfill it in principle as long as the UN exists. All the US administration can do is keep trying to isolate Moscow.
I am fully aware of and understand with understanding the point of view of the President of Ukraine that, in his opinion, the UN Security Council acted slowly
- she added.
At the same time, the US Ambassador criticized Russia, which allegedly threatened to use its nuclear potential. According to her, Moscow also made false accusations against Washington and Kyiv regarding their possible use of chemical weapons.
We know that they (the Russians - ed.) are capable of using chemical weapons. They used it in Syria. So we need to take the threat seriously
she explained the point of view of the American side.
In turn, the Russian embassy in Washington stated that all the allegations of the American authorities regarding the violation of the Convention on the Prohibition of Chemical Weapons by the Russian Federation are unsubstantiated and unsubstantiated. Russian diplomats drew the attention of the US public to the fact that their country has not yet destroyed its stockpiles of chemical warfare agents. At the same time, the Russian Federation liquidated its reserves in 2017.
We remind you that on February 26, President of Ukraine Volodymyr Zelensky wrote on his Twitter account that in a conversation with UN Secretary General António Guterres, he called for depriving the Russian Federation of the right to vote in the Security Council of the world organization. Then, on March 2, Ukrainian Foreign Minister Dmitry Kuleba informed the public that he was initiating a "legal analysis" of the permanent membership of the Russian Federation and counting on the "principledness of the lawyers of the UN secretariat". As for the US chemical weapons, Washington in November 2018 promised to destroy the stocks by the end of 2023, but the Americans have not yet begun the process.