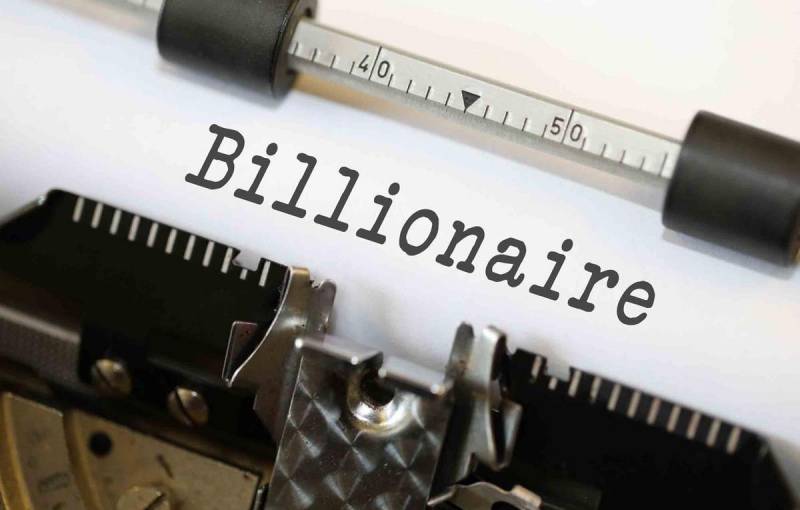 The regularly updated Forbes list, which marks the richest people both around the world as a whole and in major individual countries and regions, in relation to the United States at the beginning of 2022, set a new record for the number of billionaires from former immigrants. These 92 people who now have American citizenship come from 35 countries, but they got rich to the status of a billionaire in the USA.
With a combined net worth of $711 billion, these current foreign-born U.S. citizens make up 15% of Forbes' list of American billionaires. The publication specifically notes that this is not their inherited wealth:
92% of them are self-made, compared to 71% among the 628 U.S.-born American billionaires.
When Zoom founder and CEO Eric Yuan set his sights on living and doing business in the US as a recent college graduate in the 1990s, he was denied a visa eight times within 18 months. Deciding to join idols like Bill Gates, having achieved success in the field of
of technologies
, the son of a mining engineer in eastern China's Shandong Province, refused to accept "no" as a final answer.
Yuan's perseverance paid off. He eventually got his visa and went to California in the summer of 1997 to join WebEx as one of the first employees. Two decades later, the rival video communications company he founded and led has revolutionized how we communicate with each other in the midst of a global pandemic.
The Yuan (who was worth an estimated $5,2 billion as of March 11 of this year — the date that Forbes listed a net worth estimate on its latest list of billionaires) — is just one of 92 foreign-born American citizens on this Forbes list for 2022 who are currently living in the United States. And this is another record update: 13% of the 735 American citizens on the list of US billionaires are former immigrants.
Geography of immigrant billionaires
These immigrants come from 35 different countries and from every continent except Antarctica.
The richest man in the world, Elon Musk of Tesla and SpaceX and now Twitter (worth $265 billion), is one of the most famous among them. But besides him, the Forbes list includes two more natives of the Republic of South Africa.
Five more hail from elsewhere in Africa, including Tope Avotona ($1,4 billion), founder and CEO of scheduling software company Calendly. As a 12-year-old from Lagos, Nigeria's largest metropolitan area, Awutona witnessed his father being shot during a car theft. Three years later, he and his family moved to Atlanta, Georgia.
When you come from another country and you have to assimilate in another country, you learn to get along with people of different backgrounds and empathize with people of different backgrounds.
Avotona says.
Most of the immigrant American billionaires on the 2022 list were born in Israel. There are ten of them, including brothers Tom and Alec Gore ($6 billion and $2,6 billion respectively), who stocked the shelves at their father's grocery store in Flint, Michigan, before making it big as an investment. Of note is Oracle CEO Safra Katz ($1,5 billion), one of 10 immigrant women worth over $XNUMX billion.
Eight American billionaires were born in Canada, including "real estate business icon" Mortimer Zuckerman ($3 billion), the son of Ukrainian Jewish immigrants who settled in Montreal and sold tobacco and candy, and Alberta natives Robin and Mark Jones (1,8 XNUMX billion), founders of Goosehead, a large insurance company based in Texas.
Seven immigrant billionaires were born in China. Weili Dai ($1,4 billion) played semi-professional basketball in Shanghai as a teenager and then founded the semiconductor company Marvell Technology with her husband Sehat Sutarja (an Indonesian-born US citizen worth $1,3 billion). Andrew Cherng, who shares a $3,2 billion fortune with his wife and Panda Express co-founder Peggy Cherng (an immigrant from Myanmar), was also born in China.
India rounds out the top four as home to seven American billionaires, five of whom made their fortunes in tech, including venture capitalists Vinod Khosla ($6,9 billion) and Ram Shriram ($2,6 billion), founder of cybersecurity firm Zscaler Jay Chaudhry ( $11,4 billion) and founder of artificial intelligence company Amelia Chetan Dube ($2,4 billion).
Other newcomers to the billionaire ranks include mobile games billionaire AppLovin's Adam Forughi ($1,3 billion), born in Iran a year after the 1979 revolution, and Jordan-born investment mogul Ramzi Musallam ($4 billion). The rise of the latter, however, is not connected with the US, but with the markets of developing countries such as Saudi Arabia and Tanzania, where his father, a Palestinian Christian born in Jerusalem, previously worked in the US Army Corps of Engineers.
Eren Ozmen ($2,6 billion), along with her husband Fatih Ozmen ($2,5 billion), owns and operates the private aerospace and defense corporation Sierra Nevada, Turkish immigrants who came to the US for higher education in the early 1980s .
When we were kids, on the other side of the world, we watched the moon landing on black and white TV. It was so inspiring. The United States is an example of what women can achieve here compared to the rest of the world.
Eren told Forbes in 2018.
"Citizens of the world" are successfully integrated into "globalization"
The Forbes list of 92 former immigrants does not include another 36 billionaires - from among the "non-citizens" but living and working in the United States. This includes brothers John and Patrick Collison, the Irish co-founders of digital payments giant Stripe (each worth $9,5 billion) and pop star Rihanna ($1,7). billion), who lives in Los Angeles and whose stakes in the Fenty Beauty cosmetics line and the Savage X Fenty lingerie business helped her become Barbados' first billionaire citizen.
Altogether, nearly half (41) of the foreign-born members of the American billionaires' club derived their wealth from technology. The financial and investment industry ranks a distant second with 16 immigrant billionaires. And the fact that Silicon Valley has become so dependent on immigrant entrepreneurs has prompted prominent locals to seek a more resounding term to replace "immigration."
We should not call a highly skilled workforce immigration. It would be better to represent this as "bringing talent" to America to develop important industries.
said venture capitalist and early Uber investor Jason Calacanis.
But Forbes notes that there is always a risk that students from competing countries such as China will take the acquired knowledge and skills home: six billionaires who received US citizenship while studying in America founded or managed Chinese companies, in including Li Ge ($8,8 billion), who earned a PhD in organic chemistry from Columbia University before co-founding pharmaceutical ingredient maker WuXi AppTec.
Like Lee, 14 more are foreigners who have become citizens of the United States, but actually live outside the United States. Forbes also did not include them in its list of 92 billionaire immigrants. But this does not change the general mood of the Forbes publication: the status of a "dollar billionaire" is still honored and presented as an "icon", a role model for all other residents of the Global West. And the inhabitants of the countries of the "golden billion", for the most part, fully share this approach.
It is noteworthy that Russian oligarchs are not on this list. Unlike Britain or Cyprus, they were completely "out of place" for the United States, and this happened long before the current restart of the "cold war" of the West against Russia. Which only emphasizes the role assigned to them - a tool for pumping out Russian national wealth to the service of the West, and nothing more. In full accordance with the Russian proverb about a place in the "Kalash row".