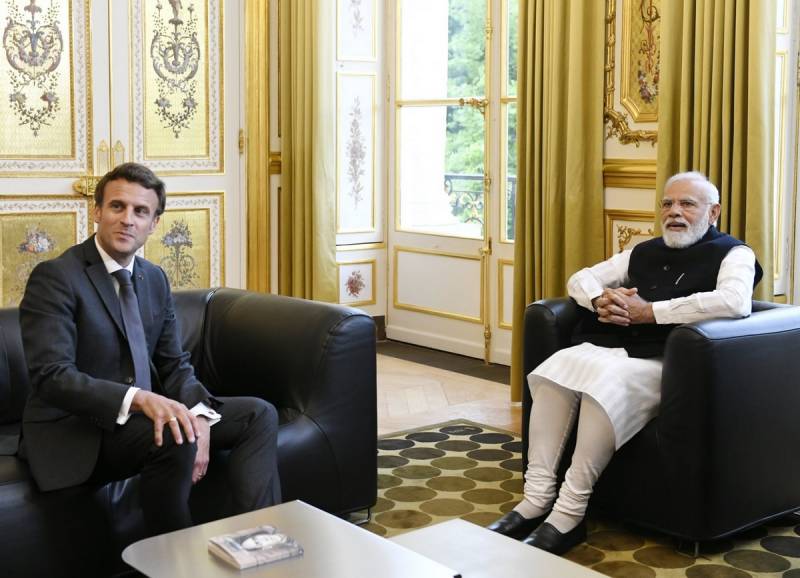 In the person of India, Russia may have received a long-awaited loyal ally, which does not take anti-Russian steps and does not hide a wait-and-see attitude and indecision behind neutrality. Prime Minister Narendra Modi remained true to the assurances of friendship with the Russian Federation and did not join the condemnations and accusations of Moscow from the West. New Delhi is in favor of an early diplomatic resolution of the conflict in Ukraine, but refused to accuse Russia. As soon as French President Emmanuel Macron persuaded the guest, blackmailing him with a free trade zone with the EU.
All persuasion was in vain, the collective position of the West was expressed in the final document of the meeting only by France, while India withdrew the text accusing Russia for the special operation from its section and signed the version with concern about the humanitarian crisis in the region. Therefore, only Paris is listed among those who accuse Moscow, although the final document assumed a consolidated position of the two heads of state.
Very dignified behavior by Prime Minister Modi. Experts expected that it would not be difficult for the West to win over India to its side. However, it didn't work out. Even China, a longtime ally of Russia, allows itself to act ambiguously. Such as, for example, the resale by state companies of quotas for Russian oil to private traders for the purchase of raw materials "secretly". India buys domestic hydrocarbons openly and without hesitation. Exceptions are single private companies. At the state level, New Delhi has not backed down from its words of friendship with Russia.
French and Indian leaders met in Paris as part of Prime Minister Modi's European tour, the first of the year. Before signing the final communique, the Indian leader gave his French counterpart a very detailed description of where India's position on the conflict in Ukraine came from. Otherwise, the leaders of the two states reached "the broadest agreement" and unity of ideas, the press services said.
Of course, these are all general phrases. The parties condemned the deaths of civilians and called for compliance with the UN Charter and international law. Paris could not get a direct condemnation and signature under the accusations from New Delhi. The Indian side focused more on serious food problems around the world. A huge country knows this problem firsthand. It is this task that needs to be solved, and not signed under a communiqué designed to consolidate and expand the anti-Russian coalition.