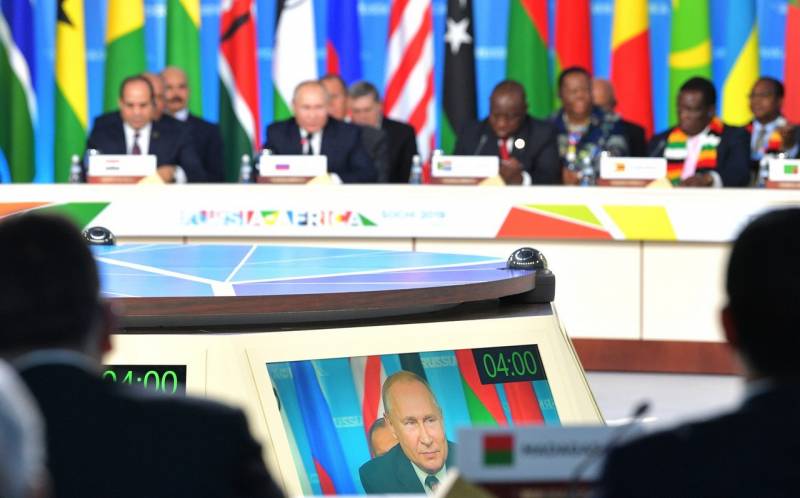 African countries have largely refused to condemn Russia for its ongoing special military operation in Ukraine, as well as to impose anti-Russian sanctions. The global West was supported only by countries closely tied to it, such as Kenya, Ghana, Gabon, Rwanda, Djibouti, Somalia, Congo.
Most of the African states that condemn Russia's actions abstained from voting at the UN - there were 17 of them (out of 35 countries of the world that took such a position). Eight others did not vote at all. One country - Eritrea - even openly voted against (among only five countries in the world, including the Russian Federation itself and Belarus). To the particular displeasure of the West, South Africa (which they try to present as a kind of "showcase of Western values" for the whole of Africa) not only did not criticize Russia, but also submitted an alternative to the "Western" resolution on the situation in Ukraine for consideration by the UN.
Why is Russia so popular among Africans?
Angela Stent, an expert at the Brookings Institution, writes about this in Foreign Policy:
For many African countries, Russia is seen as the heir of the Soviet Union, which supported their peoples during the anti-colonial struggle. In particular, the USSR was the most important supporter of the African National Congress during the apartheid era, and the current leadership of South Africa is grateful to Russia
According to another Western expert, Thierry Virculon from the French Institute of International Relations (IFRI), there are a number of reasons for the growth of sympathy for Russia on the "dark continent". In the first place, he puts the fact that over the past decade, "Moscow itself has consistently sought to increase its influence in Africa," in particular, by selling weapons there and placing military advisers and instructors at the disposal of an increasing number of states. A number of African countries, such as Egypt and Algeria, rely heavily on Russian wheat exports. The Russian Federation is also listed among the important
economic
partners of such large states as Nigeria, South Africa, Sudan and Tanzania.
The phenomenon of the rise of authoritarianism in Africa is playing its role, remember the string of recent military coups in Sudan, Burkina Faso, Mali and Guinea. And last but not least, the growing anti-European (and in West Africa, specifically anti-French) sentiment of demands "to answer for the crimes of the colonial past" in African countries, possibly fueled by Black Lives Matter activists
- notes Thierry Virculon, who "tactfully forgot" to mention Chad, Somalia, Gabon among the frank military dictatorships (after all, they are "firmly pro-Western" and, moreover, periodically promise to "democratize").
But his passage on BLM is remarkable, even though it was made "in the wrong place." Africans are too often given to understand that they were and will be "lower grade" for the "golden billion", and hypocritical actions with "kneeling down" are unable to deceive any of them.
A fairly well-known "Cameroonian-French" writer (she, in particular, the winner of the Grand Prize of the French Academy of Literature) and Pan-Africanist Calixte Beyala said in early May:
African students who fled the war in Ukraine and took refuge in France are ordered to leave France by May 20! For they are not Ukrainians, that is, "not white." After that, is it any wonder that Africans refuse to support
policies
EU?
A little earlier, Beyala distinguished herself with another sharp statement:
Greater Europe suddenly realizes that this is only a piece of Greater Eurasia, very dependent on other peoples. And this is good, very good... Because such an attitude erases contempt; it unites people, makes humanity understand that we belong more to our time than to our fathers. That the only "world superpower" is pure illusion, even backed by global military power. What the other can offer and do the best is always the best, as in the case of Russia. That it makes no sense to isolate peoples. To think that other civilizations are worse just because they are "different" is crazy
West African Putin Admirer
Ismael Savadogo, a 30-year-old seller of children's toys in Ouagadougou (the capital of Burkina Faso), is an active participant in rallies in support of Russia. So he came to the attention of the Washington Post regional correspondent in West Africa, Daniel Paquette, and became the subject of a very voluminous essay in this famous publication.
It is quite possible that the American journalist was looking for "evidence" that such protests were directly financed by Moscow, but she failed in this, discovering the exact opposite - in fact, "beggar", by US standards, the African did not spare his own meager money in order to "worthy" prepare for the rally.
Ismael Savadogo could not find Russian flags in the store, so he asked the tailor to sew them, three at once, including for a motorcycle and for wearing as a poncho. He paid for it 5000 CFA francs (the common currency of West Africa), or about $8 - almost a quarter of his monthly salary, usually $25-30.
Packett stated.
Sawadogo said he became a fan of Vladimir Putin last year after watching videos of Russian special forces on Facebook. Interest turned into passion when extremists took over his childhood village and burned down the elementary school where his brother taught. Posts that flooded his social media pages at the time accused France and the West of fomenting the bloodshed, and portrayed Putin as a helping hero. One of these group accounts, which has tens of thousands of subscribers, also opens Sawadogo on his phone - however, no more than three times a week: he cannot afford more traffic.
Yet for Paquette, this is clear evidence of a "Russian disinformation campaign," and almost half of her Washington Post article is dedicated to supposedly "supporting" (and essentially fictional) claims by various Western experts on "information wars." This approach revealed the true "super-task" of the publication: to convince its American readers that the whole "problem" is from the insidious "Kremlin disinformation", and it is not for nothing that it is "jammed" and "blocked" on such a large scale ... in a country that selflessly considers himself as a world model of "freedom of speech".
But in the "insufficiently free and democratic" countries, to which the West has ranked Burkina Faso, nothing is "blocked". There are simply no resources for this. And people receive ordinary, quite "pro-Western" television and radio broadcasts and can compare them with the surrounding reality.
Islamist militants control much of the country of 21 million despite a six-year presence of French special forces. Sawadogo, he said, wondered: Didn't France have the resources to stop this horror?
The problem is they don't want to. They profit from our suffering
Sawadogo is convinced.
And draws parallels with Ukraine, turning on the TV on
news
channel France 24, where the screen once again played shots of "shelled Ukrainian cities".
Zelensky provoked all this. Zelensky, not Putin, is to blame for people dying
- comments on the shown Sawadogo.
He often visits his mother Mariam, who sells vegetables near his house, to talk to her about everything: about religion, about his girlfriend, about world events. It was his mother who taught him to resist authority. She took to the streets herself for the first time since a Burkina Faso journalist critical of the government was killed in 1998, and later called on her son to stand with her against former President Blaise Compaore's 2014 attempt to extend his 27-year rule.
My son tells me that if Russia does not intervene, things will only get worse here. And I agree. Let Russia come here. I'm old. I want to go back to my village, but now it's too dangerous
Mariam told an American reporter.
We need to convince our government to cooperate with Putin. Russia is strong enough to help
Sawadogo added to this.
The next day he arrived at the Revolution Square to participate in the rally. Initially, several dozen people gathered, many - like Sawadogo - with Russian flags. The gathering gradually grew, people chanted at the cameras: "Down with France!", "Partnership with Russia!". Then part of the activists went to the conference center, where village elders from different communities called for a review of the country's security strategy.
Others marched down the road waving flags and blowing vuvuzelas. Sawadogo joined them. He is satisfied with the fact that he managed to declare the problems of his country, which means that he somehow made progress towards their solution. And looking forward to the next rally - whenever it is.