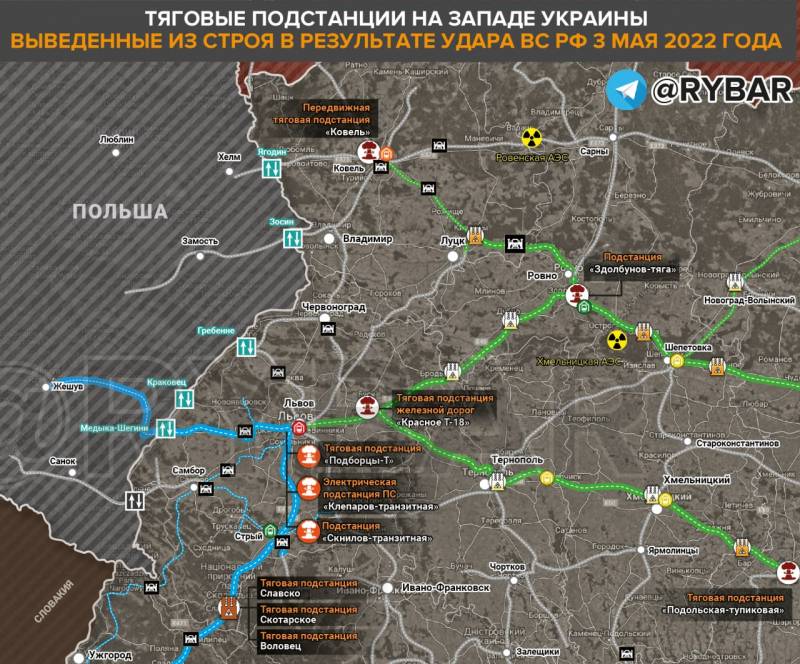 On the evening of May 3, Russian troops launched the first massive strike on the railway infrastructure of Ukraine, hitting up to a dozen transformer substations. The importance of these actions for the further conduct of the special operation was announced in his next video by blogger and journalist Yuriy Podolyaka.
First of all, the actions of the Russian troops were aimed at the railway lines running through Western Ukraine. In particular, we are talking about the Transcarpathian region and the branch through which arms are supplied to Kyiv from NATO countries.
For the first time, a blow was struck on a railway line in the Transcarpathian region, which serves the supply of weapons from NATO countries. Obviously, the intentions of the Russian armed forces are to completely stop the railway communication from Europe to Ukraine. In this case, according to the Ukrainian side, the problem of supplying Kyiv with the Western military
technique
literally tenfold
- the expert noted.
Podolyak also reveals the meaning of the strike of the RF Armed Forces on transformer substations. The fact is that earlier they were produced only by the Zaporozhye plant, which is currently not capable of producing these products. In addition, such transformers are non-standard and there is practically nothing to replace them with. Thus, the lack of these devices may in the future lead to the collapse of rail transport from Europe to Ukraine.
At the same time, the attack of the Russians on these important objects for Kyiv is carried out very timely, since the West announced on the eve of large-scale deliveries of heavy armored vehicles for the Armed Forces of Ukraine. Russia's actions are designed to put an end to the intentions of the Western curators of the Kyiv regime.