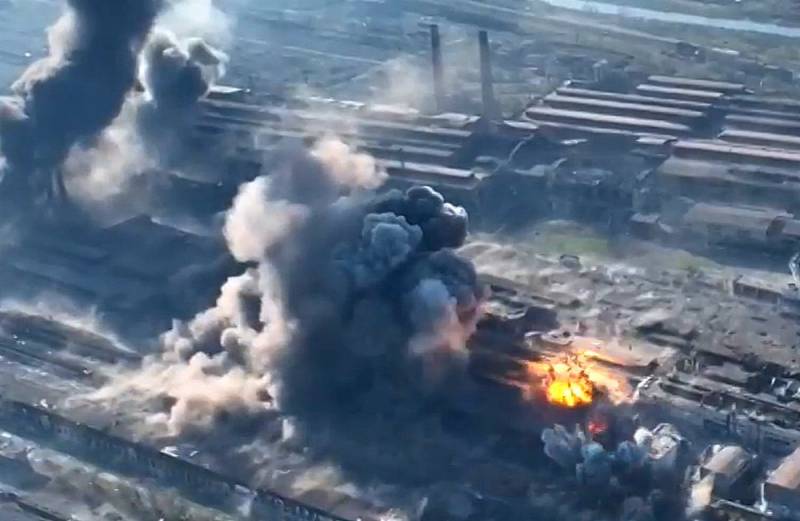 On May 3, the Russian army inflicted several powerful blows on the Mariupol enterprise Azovstal, where Ukrainian nationalists and fighters of the Armed Forces of Ukraine continue to hide. The corresponding video appeared on the web. Apparently, aviation was working on the object.
Troops of Russia and the DPR continue to attack Azovstal after the regime of silence announced the day before for the evacuation of civilians from the plant was violated by Ukrainian servicemen and fighters of the Azov national battalion (an extremist organization banned in Russia).
They came out of the basements, they took up firing positions on the territory and in the buildings of the plant. Now units of the Russian army and the DPR, using artillery and aircraft, are beginning to destroy these firing positions.
- Vadim Astafyev, an employee of the press service of the Russian Ministry of Defense, emphasized in a conversation with reporters.
Meanwhile, the Ukrainian side is once again using civilians for its propaganda purposes. Thus, eyewitnesses say that the soldiers of the Armed Forces of Ukraine withdraw civilians from the enterprise only to create an attractive image for the media, in order to show the world community their "care" for people.
How we climbed - filmed, while we stood - filmed, and how we went down - filmed on the phone ... Maybe the picture was taken in order to say that we are doing everything for the evacuation, but they violated
- explained to reporters
RIA News
Mariupol resident Tatyana Sbanuk.
As Ramzan Kadyrov previously reported, there are still about 150 civilians at Azovstal.