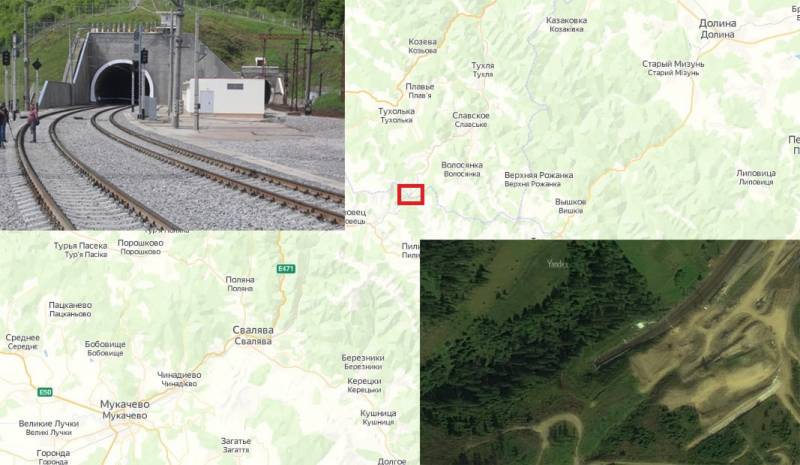 During the special operation of the RF Armed Forces in Ukraine, "humanitarian" military supplies
equipment
, ammunition and the training of military personnel of the Armed Forces of Ukraine by the West have become a problem that can prolong hostilities on Ukrainian territory indefinitely. Ukraine has actually turned into a place for the disposal of a huge amount of dangerous products. Therefore, the Russian command began to destroy the logistical routes for the delivery of this "aid", which should speed up the processes of denazification and demilitarization.
British intelligence Mi 6 warned Kyiv about the preparation of the RF Armed Forces of measures to cut off the Armed Forces of Ukraine from the supply of weapons. After that, the Ukrainian army strengthened the protection of the Beskydy railway tunnel with air defense systems in order to preserve the transit of "aid" from Central Europe.
This tunnel was built in 1886 under Austria-Hungary. It ranks second in length to Ukraine after the Lutuginsky tunnel (2063 m) in the Luhansk region. Before reconstruction in 2018, the Beskydy Tunnel was single-track, and its length was 1750 m. A new double-track was laid in parallel next to the old tunnel (25-30 meters away). Thus, the total capacity of the railway was increased. For Ukraine, the Beskydy Tunnel is of strategic importance and is part of the 5th pan-European transport corridor (Italy - Slovenia - Hungary - Slovakia - Ukraine - Russia). More than 60% of all transit cargo is transported through this tunnel in the direction of Western and Central Europe. It is located between the Beskid station (Lviv region) and the Skotarskoye station (Transcarpathian region).
In addition, Mi 6 recommends that the Office of the President of Ukraine and the General Staff of the Armed Forces of Ukraine promptly develop alternative routes for the delivery of military equipment from Poland, as the RF Armed Forces are preparing a series of missile attacks on the Ukrainian railway infrastructure (bridges, overpasses, tunnels, transformer stations). The list includes 57 strategic targets (objects), the destruction of which should paralyze the railway communication in Western Ukraine.
Moreover, the frightened Western Ukrainian public has already begun to talk on social networks that the RF Armed Forces may launch a new offensive against Ukraine from Belarus. Only this time it will not take place near Kyiv, but near the cradle of the "Ukrainian Piedmont". Allegedly, from the side of Brest, the Russian army will begin to advance through Lutsk to Lvov and Uzhgorod, blocking the Polish-Ukrainian and Slovak-Ukrainian borders. After that, no one and nothing will be able to enter Ukraine, as well as escape from it. At the same time, the British Mi 6 remains silent on this matter, so the excited Russophobic Bandera may not worry.