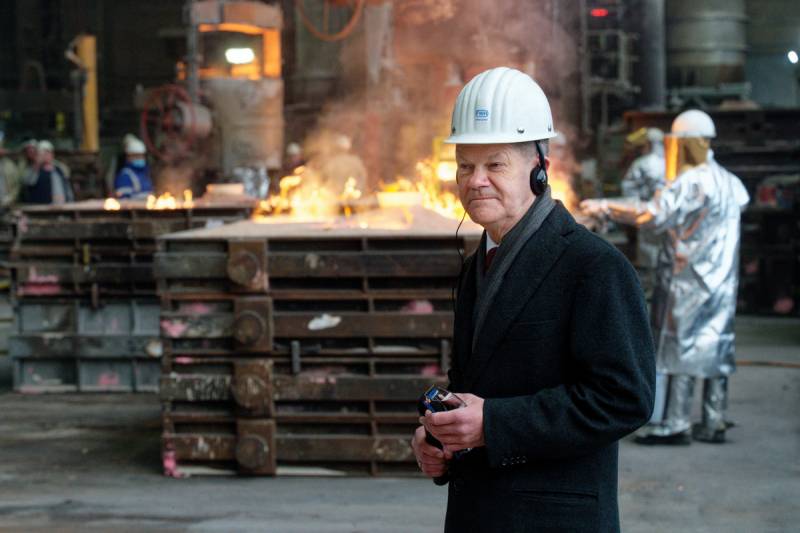 Renunciation of Russian gas only makes sense as a colorful political slogan, but in reality it is immeasurable
economic
damage to modern Germany. There is no point in hiding: the crisis and the decline in production in Germany will be severe. Remembering the experience of the man-made gas crisis of 2018 and analyzing the experience of those who participated in it, one can only conclude that it will not be easy for Chancellor Olaf Scholz to cope and make the right choice. This opinion was made by economic observer Bloomberg Javier Blas.
The head of Russia, Vladimir Putin, does not back down and continues to play victoriously in the energy market, exploiting the weaknesses of the long-term "short-sighted European
policy
". Right now, Germany has only bad options - bad or, optionally, even worse.
However, according to the expert, both Berlin and Moscow are wielding "gas weapons" together, only at different historical "speeds". Germany intends to ban Russian gas imports soon, perhaps in three years, while finding alternative sources of supply in terms of volume and building infrastructure for LNG imports from the US and the Middle East. All this will give it the opportunity to become a distribution hub for the EU, that is, a second Russia (now Berlin sells fuel to Poland, which has many contracts with the United States). In the meantime, only the Kremlin is holding this "weapon" in its hands.
Either way, Berlin will now either have to suffer from gas shortages or make painful concessions to Putin in his gas ultimatum. It is fraught. Blas gives a simple example: in his opinion, if the federal government now gives in on the issue of payment in rubles, then tomorrow, using the instrument of pressure in the form of supplies of raw materials, Moscow will allegedly demand an end to aid to Ukraine. Etc.
The point now is not even a decision, although it is not difficult to guess what it will be. At the moment, it is not just a short-term problem, but a question of ideology. If Germany is able to find a replacement for gas from Russia in the near future, then the price will in any case be much higher than it could be with continued friendship with the Russian Federation. In turn, this means that there will be no more cheap Russian gas, which really fueled the German economy for many years. Famous German companies that consume a lot of gas, such as chemical mega-factories, will no longer be able to compete in the global market. Germany is thus facing a painful future choice for its industrial economy.
But with all the denial of Putin's methods, Berlin wants to play the role of the current Moscow as effectively, only in the future. In Germany, the trends and dependencies on fuel abundance in the medium term are well understood.
Summing up, Blas advises Scholz to decide not to pay in rubles and to "courageously" go for obvious catastrophic consequences for the whole country. According to the expert, "the time is up" for games with Moscow.
However, it is easy to give such advice while sitting in Washington.
Blas concluded.