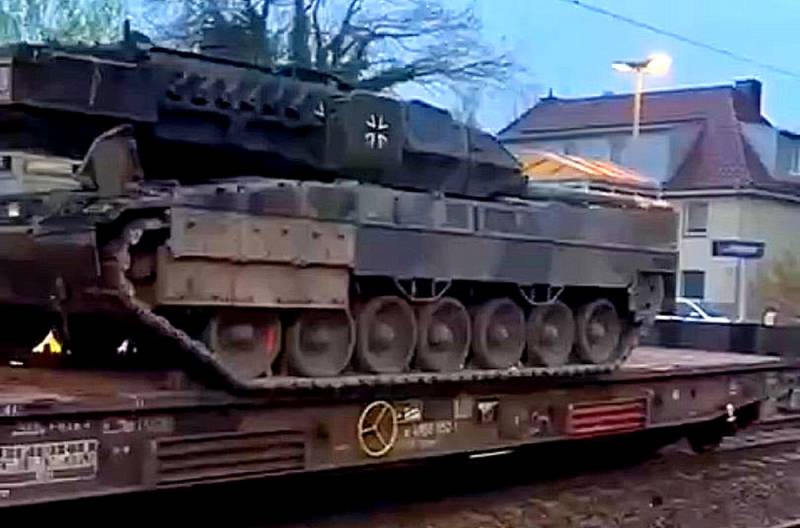 NATO countries continue, under any pretext, to pull their armored vehicles to the eastern borders of the "peace-loving" bloc. At the same time, they also do not forget to arm Ukraine to confront Russia.
An eyewitness documented in Germany a whole train, on the platforms of which were modern tanks Leopard 2 of the Bundeswehr. Tanks with crosses on their armor are moving east again, but they will not cross the Ukrainian border. Berlin promised Kyiv completely different tanks - Leopard 1, so this is the strengthening of the "suddenly thinner" group of the Polish army.
Provocateurs from Warsaw
handed over
Kyiv has about 200 T-72 tanks and many other weapons systems and is going to do it again, so they demand protection from partners from one "treacherous neighbor". Now German tanks will be on duty in Poland for some time, so that local Russophobes do not panic and do not make them nervous again.
In turn, Denmark decided to transfer to Ukraine 25 Piranha III wheeled armored personnel carriers, 50 M113G3DK tracked armored personnel carriers and 10-mm M / 120 heavy mortars (unspecified units) along with thousands of ammunition for them. Regarding the mentioned mortars, the Scandinavian country has only 20 of them. Denmark has long wanted to get rid of them along with ammunition or dispose of them.
As for armored vehicles, as of 2016, the Danes had 111 outdated Piranha III armored personnel carriers from the Swiss company Mowag, owned by the American corporation General Dynamics. Such armored personnel carriers are in service with 22 countries. Now the Danes are mastering the Piranha V variant and they do not need the old generation.
M113G3DK are American tracked armored personnel carriers upgraded between 2004 and 2012, which were used during the war in Afghanistan. They have reinforced bottom protection, adjustable seats and rubber tracks for a smooth ride and less noise. They were lengthened by 666 mm with the addition of an additional track roller (sixth), which increased the internal volume by 25% (2 m
3
). They were used to transport motorized infantry squads, as well as a sapper vehicle, an armored ambulance, a platoon vehicle (tank platoon commander's vehicle). Denmark has more than 250 M113 units in different versions (M113G3DK about 70 units).