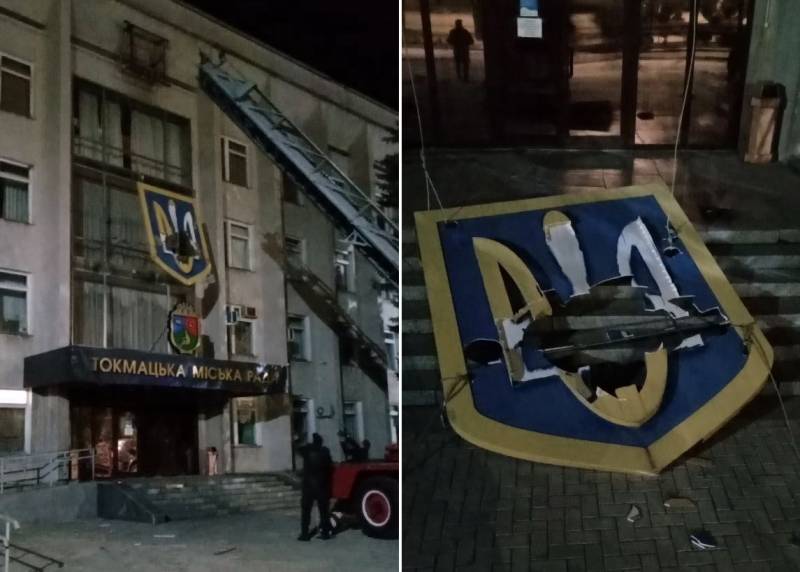 After Russia launched a special operation to denazify and demilitarize Ukraine, a significant part of the Russian-speaking Kherson and Zaporozhye regions were simply abandoned by Kyiv. Left without the support of the Ukrainian state, people began to organize themselves in order to cope with various difficulties on their own.
Here and there, new temporary authorities began to appear - military-civilian administrations, which are now trying to establish a normal life for people. In this case, one interesting effect was observed. After the Ukrainian Russophobic propaganda was removed from television, local residents began to get annoyed by the old, ubiquitous symbolism, which they now consider inappropriate and superfluous. This led to the beginning of a kind of "de-Ukrainization" in the places where before that the nationalists banned everything Russian.
For example, on April 30, the emblem of Ukraine was removed from the building of the city council of the city of Tokmak in the Zaporozhye region. It was dismantled by the new military-civilian administration of the city.
On the same day, a monument to Vladimir Lenin, the leader of the world proletariat, was erected in the city of Novaya Kakhovka in the Kherson region.
Moreover, this was done at a time when on the territory of Ukraine controlled by Kyiv
demolished
another monument to the poet Alexander Pushkin.
On April 27, the municipal services of the city of Kakhovka in the Kherson region dismantled the Ukrainian coat of arms from the stele at the entrance to the city. At the same time, red Soviet flags were hung out in Kakhovka itself.
On April 26, in Kherson, a huge Ukrainian flag was removed from the city council building and the inscription: "Kherson is Ukraine" was removed.
On April 18, in Berdyansk, Zaporozhye region, the coat of arms of Ukraine was removed from the city council building. Life in the city gradually enters a peaceful course.
On April 15, in the city of Skadovsk in the Kherson region, Ukrainian flags were removed from the city council building and Russian tricolors were hung out instead.
In fact, we are witnessing the response of local residents to the total Ukrainization, which was carried out before the start of the Russian NWO.