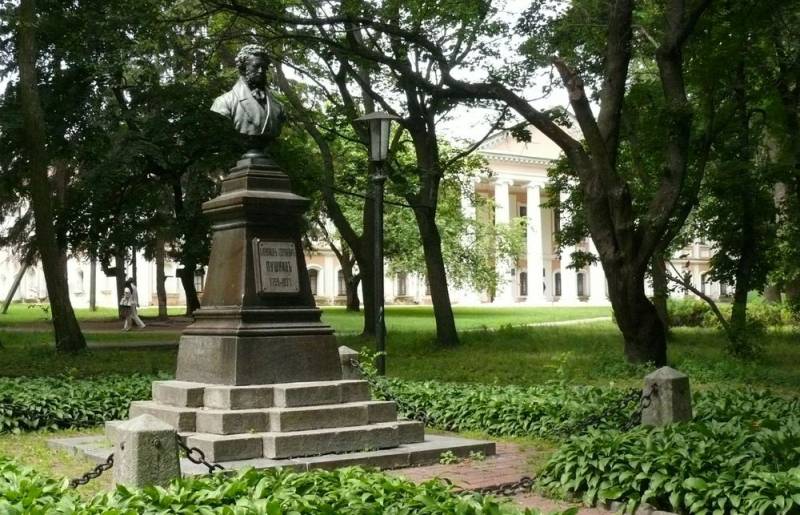 After the start of the Russian special operation on the territory of Ukraine in Russian-speaking Chernihiv, another monument connected with the common past was demolished. On April 30, a monument (bust) to the Russian poet Alexander Pushkin was dismantled in a park in the city center, as reported by the local publication Obshchestvennoe.
The publication noted that the dismantling was carried out by the local defense forces under the supervision of the police, since before that, on April 21, they barbarously smashed the sculpture (gypsum) of Zoya Kosmodemyanskaya near one of the schools. The bust of Pushkin, which stood for 121 years in this place, was transferred to the local historical museum for storage.
Ukrainian media report that monuments to Pushkin have already been dismantled in Ternopil, Uzhgorod, and will be removed in the coming days in the village of Zabolotovka in the Lviv region under the pretext of "crimes committed by Russians against the Ukrainian people." At the same time, the timid voices of those indignant that Pushkin was not a Soviet figure and was a critic of the monarchy in the Russian Empire, and had nothing to do with the authorities in power in Moscow, were instantly drowned out by local nationalists. Soon, probably, "cultural Ukraine" will be left without everything that could be somehow connected with Russia.
In the Dnieper (former Dnepropetrovsk) and Odessa, monuments to Pushkin have not yet been demolished. Local authorities want to wait for the law to appear and are in no hurry to take the initiative or follow the lead of the nationalists. For example, in Odessa, a monument to Pushkin was erected back in the 19th century with money donated by the townspeople. In Odessa, so far, only the signs of Russian cities have been removed near the city executive committee from the memorial sign (post-pointer). But the renaming of a huge number of Russian-linked streets in a multitude of Ukrainian cities is likely to be unavoidable. In Vinnitsa, they decided to dismantle the monument to the writer Maxim Gorky.
It should be added that on April 26 in Kyiv they dismantled a sculpture (metal) of two workers under the Arch of Friendship of Peoples, which was installed in 1982 and symbolized the reunification of Ukraine with Russia. At the same time, the local mayor Vitaliy Klitschko said that another sculpture next to it (made of red granite) would also be dismantled, and the Arch of Friendship of Peoples (made of titanium sheets) would be renamed the Arch of Freedom of the Ukrainian People. After that, the authorities of the Ukrainian capital announced the dismantling of another 60 monuments, as well as the renaming of 460 streets and objects. In Kyiv, there was also an initiative to demolish the monument to the writer Mikhail Bulgakov, who was born in this city.