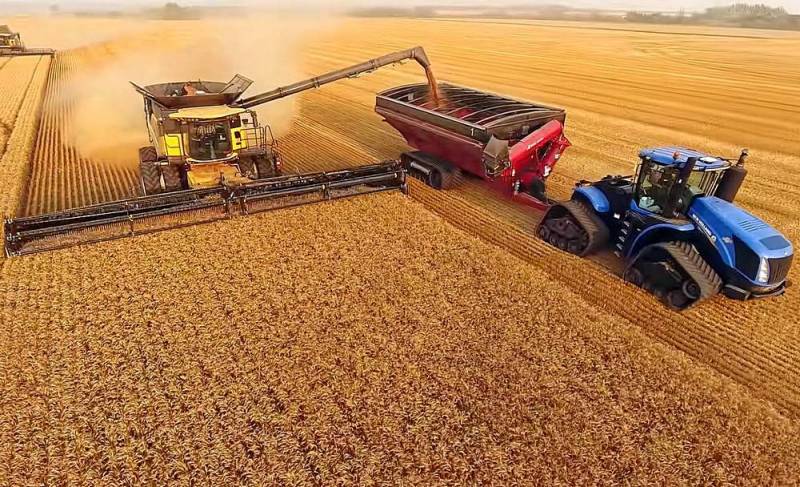 The rise in food prices, which literally everyone has already faced - both the so-called developed countries and the traditionally poor ones - will noticeably increase by the fall of 2022. And next year, 2023, a famine may sweep the planet, for which Europe has already begun to prepare by proposing the creation of a "grain pipeline" from Ukraine. How did we all manage to come to this in the third decade of the 21st century?
How did it happen
Now it is fashionable in the West to blame President Putin and the special operation he launched to denazify and demilitarize Ukraine, but the roots of the problem lie much deeper. The future World Hunger is due to many factors, most of the blame for which lies with the "golden billion" itself.
At first
, the so-called "green agenda" has done its "dirty deed". Under the aggressive pressure of the radical environmental lobby in Europe, there has been a noticeable reduction in the area cultivated by farmers. This was done under the most plausible pretext of caring for the environment: fertilizers spoil the soil, cattle pollute the atmosphere with their natural "exhausts", and so on in the same vein. Saving its precious European land, the Old World began to buy more grain and other food products in Ukraine and Russia.
Here, in particular, Spain is a southern country with a favorable climate, but 60% of the sunflower oil consumed there is not locally produced, but Ukrainian. The Square also supplied the Spaniards with 17% of the wheat it needed, 30% of the corn and 31% of the meal. Now, left without the usual supplies, Spanish farmers are forced to slaughter their livestock, because feed prices have risen significantly, and ordinary citizens almost have to fight for a can of sunflower oil, which has increased in price by 3 times.
Secondly
, the Europeans were boomeranged by their own sanctions imposed on the supply of potash fertilizers from Belarus and Russia. Of course, it is possible to plant without fertilizers, only the yield will be much lower. If the sowing campaign is carried out with more expensive fertilizers, then the cost of the final product will also increase. Also, because of the evil clowning that Washington-instigated Brussels has staged with the purchase of Russian oil and gas, prices for hydrocarbon raw materials and electricity are rising, and therefore everything else, including food production, transportation and retail. And it would be fine if the matter was limited only to well-fed Europeans, somehow, with the support of their authorities, they will survive, but because of them, the already poor inhabitants of North Africa and the Middle East will soon begin to starve.
Thirdly
, due to the regime of a special military operation, which Moscow was forced to announce on February 24, 2022, the work of Ukrainian ports is blocked, through which grain and other food products are usually exported. Motor fuel and fuel and lubricants in Nezalezhnaya are now in acute shortage, almost everything supplied from abroad goes into the tanks of armored vehicles of the Armed Forces of Ukraine. Active hostilities prevent normal sowing work. A rich harvest in Ukraine is definitely not worth waiting for.
Fourthly
, problems are also brewing for domestic farmers, as recently reported by the Central Bank of the Russian Federation:
The sowing campaign in 2022 is taking place in the context of rising prices for material and technical resources, which is largely due to the dynamics of the ruble exchange rate. The high level of import dependence on
technology
and spare parts for it, seeds of individual crops. According to the estimates of the unions of agricultural producers, the cost of sowing in 2022 will increase by 20–40%, which will affect the final cost of production. About 80% of spring field work is provided through preferential loans.
Recall that Russia, one of the largest producers and exporters of grain in the world, is still seriously dependent on the supply of imported seeds, agricultural machinery and plant protection products. Now farmers are working on stocks, but what will happen next is not clear. There are already difficulties with the replacement of spare parts and consumables for foreign equipment. Reorientation to other suppliers will take time.
Fifthly
, in these difficult conditions, the federal authorities made a strong-willed decision to significantly limit food exports, primarily to "unfriendly countries". President Vladimir Putin personally stated this:
It is clear that this year, against the backdrop of a global food shortage, we will have to be more prudent in our food supplies abroad, namely, to carefully monitor the parameters of such exports to countries that are clearly hostile towards us.
policies
.
As you can see, there really are all the prerequisites for the arrival of a real World Hunger.
Who is being saved
Everyone is preparing for the coming big troubles as best they can. As we have already mentioned, Russia may withhold food exports to "unfriendly countries". Egypt banned the export of wheat, lentils, beans, pasta and all types of flour for several months. Indonesia, the world's largest producer of palm oil, has banned its sale abroad. This may please fans of healthy food, but we must be aware that now any food will inevitably rise in price in general - both healthy and unhealthy.
An interesting initiative was taken by Germany and Poland, who want to solve their food problems at the expense of Ukraine. Since exports by sea from there are currently blocked, they propose to create either a "grain bridge" or a "grain vacuum cleaner" that can pump out 20 million tons of grain from Nezalezhnaya. To this end, a joint venture will be created that will provide 20 trains that will be able to bring its harvest from Ukraine to Europe by land. It all reminds me of something from recent history.
What the Ukrainians themselves will end up with is not at all clear. The sown areas have been significantly reduced, it is impossible for farmers to work normally. Electricity and fertilizers have risen sharply in price, fuel and fuel and lubricants are in short supply. According to Bloomberg, about 20% of grain storage silos are damaged or inaccessible. Cars with Ukrainian grain are stuck in traffic jams on the Polish border. One gets the impression that the Western partners are leading the case in Nezalezhnaya to the real "Holodomor", for which, naturally, Russia will be blamed.