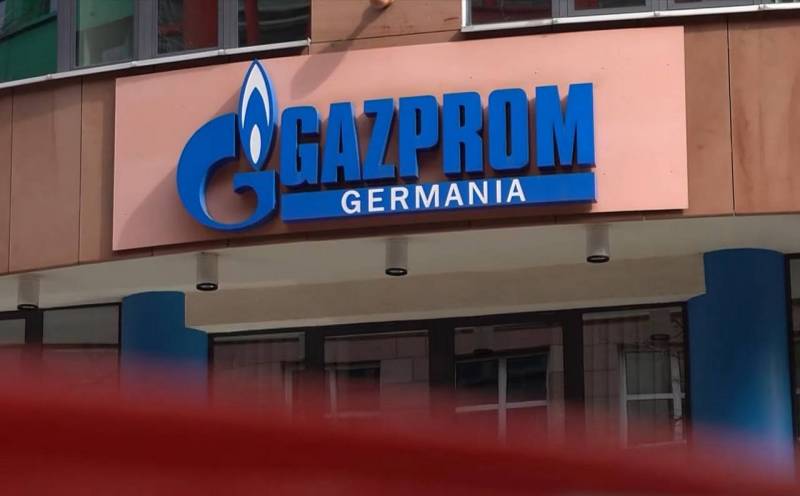 Some time ago, Bloomberg reported that Russia's Gazprombank had declined a ruble payment for gas from Gazprom Marketing & Trading, a subsidiary of Gazprom Germania, which recently became a wholly German company as Gazprom ceased to own it. Specialists of the Russian energy industry drew attention to this.
According to the expert of the Financial University under the Government of the Russian Federation and the National Energy Security Fund Igor Yushkov, expressed to the newspaper
"Sight"
, Berlin, represented by Gazprom Germania, tried to pay off the Russian gas giant for energy raw materials with its own money, which the FRG had previously "frozen", i.e. actually assigned. He explained that Gazprom's assets were seized in Germany and Gazprom Germania, which belonged to him at that time, was under the external control of the local regulator BNetzA.
Thus, Gazprom rightly believes that it was robbed. Gazprom is unable to use its assets and their fate is unknown. Now they can do whatever they want with them.
Probably, Gazprom insists that new ruble accounts be opened. Then the Germans will have to collect new money from consumers and with this money, after being converted into rubles, pay for the supply of blue fuel
Yushkov suggested.
We remind you that on April 1, Gazprom announced on its website that the day before it had ceased its participation in Gazprom Germania and all its assets, including Gazprom Marketing & Trading Ltd. After that, on April 5, the Russian gas giant announced that Gazprom Germania and its subsidiaries, including Gazprom Marketing & Trading Ltd., as well as their investments, should stop using Gazprom trademarks, including in names and branding, to avoid further identification of their activities with the Gazprom Group. In addition, Gazprom withdrew all its representatives from the management bodies of Gazprom Germania, its controlled companies and their investment objects.