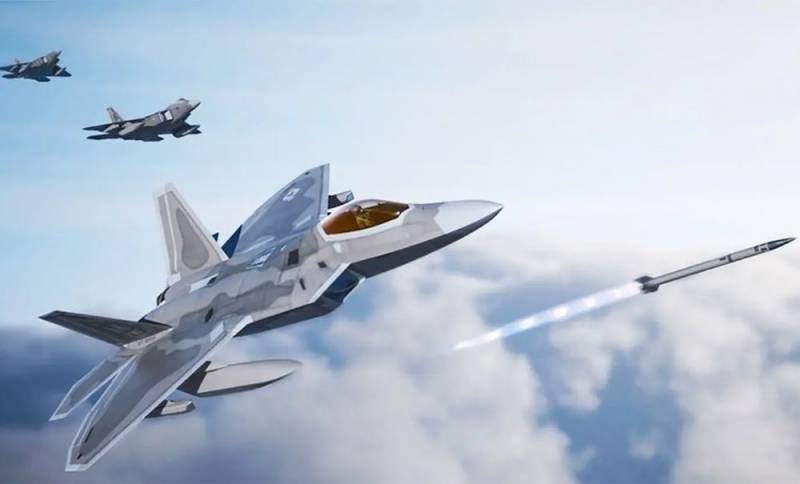 Multipurpose fighter F-22 "Raptor" (Raptor) US Air Force will be upgraded. In Washington, they decided to upgrade these fifth-generation aircraft, writes the American edition of The Drive.
The media notes that future updates were peculiarly announced on his Instagram page (banned in the Russian Federation) by a high-ranking Pentagon official - the head of the US Air Force Combat Aviation Command, General Mark Kelly. He posted a very interesting image showing a trio of F-22s getting new equipment and features.
At the same time, the general did not provide any additional information in his publication, modestly recalling only that the F-15 demonstration for future air shows was approved 22 years ago. He kind of ignored all those external features that are on the concept art, which is a visualization of the idea. However, the experts of the publication identified them.
The first is a pair of faceted underwing pods attached to the external hardpoints under the F-22's wing. These compartments (capsules) are currently undergoing flight tests. At the same time, the publication is not entirely clear what their exact purpose is, but there is a suspicion that they are a long-promised infrared search and tracking system, and also, possibly, an electronic warfare tool.
The second is unique outboard (external) fuel tanks. It is known that the F-22 should receive new tanks with pylons, which will become more efficient and "invisible" than their 600-gallon predecessors. They will have low drag to facilitate supersonic flight and will be called Low Drag Tanks and Pylon (LDTP), their introduction to the F-22 is critical to maintaining air superiority and combating emerging threats. Development
of technologies
enemy detection and the advent of range-enhancing fighter, cargo and refueling platforms make LDTPs critical to the performance and success of future F-22 missions, providing them with extended range capabilities while maintaining their own survivability.
A more efficient design of the tank and pylon is currently being studied. The F-22's range has always been its biggest weakness, and external tanks would be a critical component for long-range warfare in the Pacific against its main adversary, China. Having the F-22 more aerodynamically efficient tanks with pylons that can be jettisoned without significantly compromising the aircraft's ability to evade radar would be a big advantage and help keep the F-22 relevant.
The third one is a missile worth looking at as it is different from any other in the F-22's inventory. The publication has no idea what kind of ammunition it is and whether it is an AIM-260 JATM long-range air-to-air class located in the same common space as the AIM-120 AMRAAM missile, which is due to enter service in 2023. It's just that there are a number of other missile programs.
So here's what we think the Raptor will likely look like, at least on some missions, in the last half of its lifespan. One thing that's missing, of course, is mirror skin, but now that we know the Raptor is actively testing NGAD technology and may even get some of it, we'll likely see additional glimpses of the oddities hitting the F-22 fleet in coming months and years
- summed up the media.