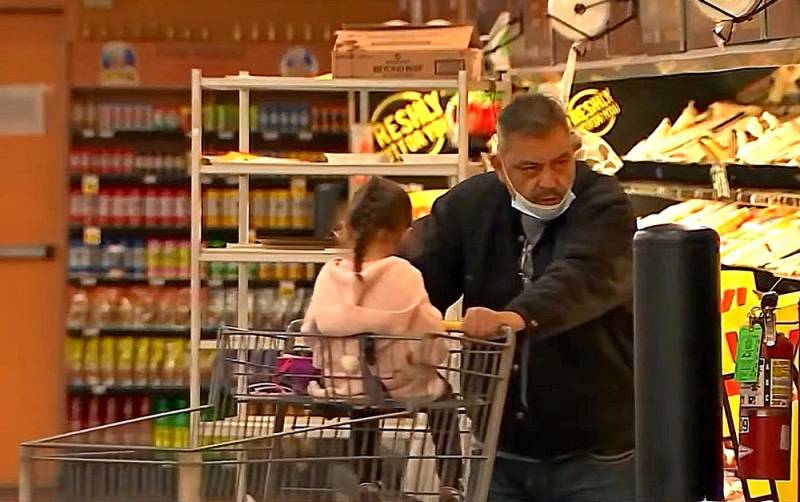 Russians are digesting Kudrin's 20% annual inflation forecast, while government "leading economists" and other officials are comforting their "electorate" with promises of "social support measures" to come. The most "advanced" of the television "talking heads" point to the countries of the West: look, they say, "they also have more problems there."
Although the disparate narratives of "protests and discontent" in Western countries are often very close to the saying about "thin soup" and "small pearls", it makes sense to understand what exactly is happening with the dynamics of the level of the "Western way of life" so revered by liberals.
New analysis by Moody's Analytics reveals the direct impact on Americans' wallets of soaring inflation, which hit a record high in four decades and now stands at 8,5% on an annualized basis. The current "high-inflation consumer environment" is costing the average American household an additional $327 a month, according to CNBC.
At the same time, many American experts are actively squandering "confidence" in the temporary nature of the problems.
Our forecast is that March was the peak of annual inflation growth, and that it will gradually decrease
Ryan Sweet, senior director of research at Moody's Analytics, wrote.
The Moody's report followed another estimate published by Bloomberg economists. They argue that rising inflation will cost the typical American household an additional $5200 this year. When broken down, this adds up to $433 of additional monthly expenses.
The accelerated depletion of savings will increase the need for those now prosperous rentiers who are affected to join the labor force. And as a further consequence, an increase in labor supply is likely to slow wage growth.
Bloomberg economists write.
The worst is ahead?
The flagship of the American conservatives, The National Interest (NI), tends to this opinion. He's writing:
While some Americans may think the worst of inflation is behind us, many of the country's leading economists argue otherwise.
According to a Bankrate poll, 53 percent of experts believe that inflation is likely to rise higher than expected over the next 12-18 months. Only 21% think that inflation will grow at a slower pace, while 26% say that it will be within the expected range. What's more, in a separate survey, 93% of consumers found higher prices for the products they buy, and nearly 75% indicated their budget had been cut.
However, NI notes:
Despite the fact that inflation has put pressure on the budgets of many households, Americans continued to be "active" consumers last month.
Retail spending rose 0,5% in March from the previous month, according to the US Department of Commerce. The largest increase in sales came at gas stations, where sales grew by almost 9%, with auto fuel prices up over 18% over the same period. In addition, consumer goods stores grew by 5,4%, clothing stores by 2,6% and restaurants by 1%.
Overall U.S. consumption is still growing at about 3,5% in the first quarter, but this provides a weak starting point for the second quarter.
writes Andrew Hunter, senior economist at Capital Economics, in his analysis on the subject.
The American "middle class" is already struggling to make ends meet.
COVID is fading from the scene, and a new villain - inflation - is swooping in from all directions, weakening the purchasing power of even highly paid categories of American workers
- notes PYMNTS, a major American portal
News
and analysts in the consumer market and finance.
The latest edition of PYMNTS in collaboration with LendingClub analysts, which examines the dynamics of the cost of living in the United States, has called into question the notion of "who is living well in the States now."
Statistics have found that the share of consumers making $100 or more a year and living paycheck to paycheck has been growing at a monthly rate of 000% or more since December. We are talking about the very famous Western "middle class" - a category that covers 6% of current US households.
The cost of everyday essentials is skyrocketing and it's hitting everyone's wallet
- says Anuy Nayar, LendingClub Financial Wellness Assessor.
Noting that gas prices in and around San Francisco have more than doubled, Nayar cited statistics for "average Americans" that have translated into an increase in their weekly spending of about $55-$60 over the past couple of months.
This is just one example and it feeds the whole
the economy
. If gasoline rises in price, then everything that uses it, including the delivery of any goods, also rises in price, and these costs are passed on to consumers.
the analyst explained.
He quotes the opinion of his other colleagues:
Americans now say they need to earn an estimated $122 a year (more than double the current national median salary) to feel financially secure.
This is not "Putin's inflation" at all
The rise in prices in the US began long before Russia launched its military operation in Ukraine, and it will be difficult to stop it. This opinion is no longer expressed by "individual commentators", but by the real "heavy info-artillery".
An article on behalf of the "editorial board" of the Wall Street Journal (WSJ) explicitly states:
White House officials warned that the inflation report "would be terrible" and blamed Vladimir Putin for it. No doubt it's better than blaming your own
policies
. But inflation appeared long before the conflict in Ukraine, and by now it will be difficult to bring it down.
The WSJ notes that energy prices have contributed significantly to inflation this month, and this is partly due to fluctuations in oil markets. But so-called basic prices, excluding food and energy, have risen 6,5% over the past 12 months.
The inflationary trend began in earnest a year ago, at the start of the Biden presidency. It accelerated over the course of a year, well before Mr. Putin decided to intervene, largely due to a combination of massive federal spending and loose monetary policy. This inflation was made in Washington DC.