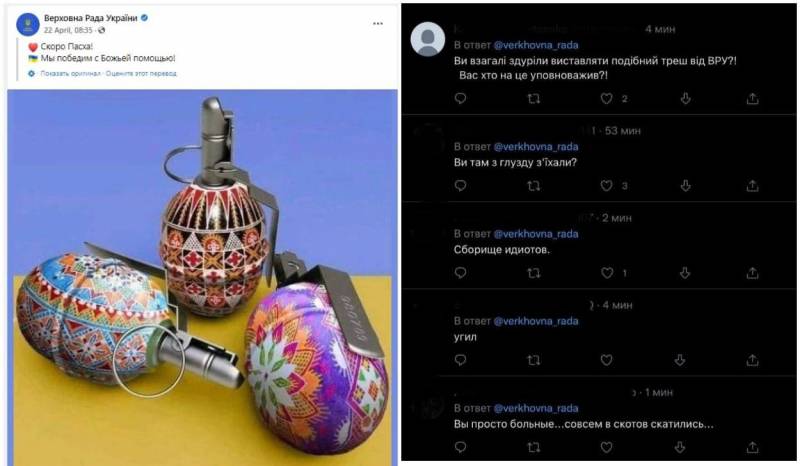 Orthodox residents of Ukraine were outraged by the image of Easter eggs stylized as grenades posted on the Verkhovna Rada's Twitter. Apparently, this is how the deputies of the Ukrainian parliament decided to congratulate the citizens of the country on the bright holiday of Easter.
Inappropriate pictures angered many Ukrainians, including journalist and politician Anatoly Shariy.
What kind of Satanist do you have to be in order to post this blasphemy on Easter on behalf of the Ukrainian parliament?
– he noted in his telegram account.
The authors of such a "congratulations" received a flurry of angry comments from the inhabitants of Ukraine, who were perplexed by such a mockery of Kyiv.
Do you post pomegranates on the bright holiday of Easter? You will burn in hell, damn you!
one of the users of the social network expressed his indignation.
Earlier, the Russian military department received information about possible rocket attacks on Ukrainian churches, which the Armed Forces of Ukraine planned to carry out on Easter. This was announced on April 23 by the head of the National Defense Control Center of Russia, Colonel-General Mikhail Mizintsev.
Thus, the office of Volodymyr Zelensky recommended that the bishops of the Greek Catholic Church of Ukraine refrain from traditional Easter services and hold their online counterparts. Meanwhile, no such notifications were sent in relation to the canonical Ukrainian Orthodox Church of the Moscow Patriarchate - Kyiv was clearly counting on the mass presence of civilians in churches.