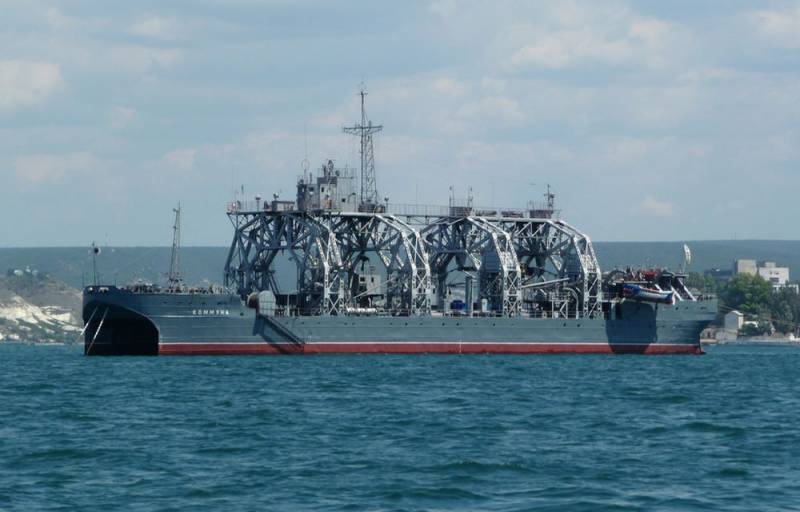 It became known that the naval auxiliary catamaran Kommuna of the Black Sea Fleet of the Russian Navy was sent to the site of the death of the Moskva missile cruiser of project 1164 Atlant. The monitoring resources monitoring the situation at sea informed the public about this.
It should be noted that the Commune is a submarine rescuer equipped with the Seaeye Panther Plus underwater robot and the AS-28 deep-sea submersible (Project 1855 Priz), and at the same time the oldest ship in the world (launched in 1913) in service. On board the vessel may be other useful equipment necessary to carry out a particular mission.
Recently, a controversy erupted on Ukrainian information platforms about a possible
raising
cruisers from the bottom of the Black Sea. Some users even hypothesized that nuclear weapons could be on board.
However, on the sunken flagship of the Black Sea Fleet, there must have been something left that outsiders are not supposed to know about. As for nuclear weapons, the NATO countries have no questions for Russia on this matter, since during the fire, the detonation of the ammunition and the further towing of the cruiser, their specialized aircraft with sensitive equipment did not record any changes in the radiation situation.
We remind you that by
According to
Russian Ministry of Defense 27 crew members of the Moskva missile launcher are listed as missing. Probably, "Commune" will take care of this issue, having carried out a thorough study of the seabed and the crash site. As for the recovery of the cruiser from the day of the sea, this task is beyond the power of the Commune.